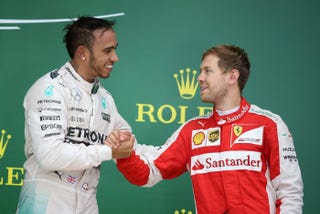 I saw this on an F1 site, it really points to how dominant Ferrari and Michael were, some of it was of course at Benetton at the start but the rest was at Ferrari.
We've just reached an interesting milestone on the statistics front. Combined, Lewis Hamilton and Sebastian Vettel's 91 race wins equal Michael Schumacher's total number of victories in F1. Also, between them, Hamilton and Vettel have 7 world titles, which is exactly the number of crowns won by Schumacher. Comparatively, it only took Michael 306 race starts to achieve his incredible record, while Hamilton and Vettel have 348 races under their belt.
So Seb and Hammy equal a Schumi right now haha, but he took a lot less time individually to get his record. Of course we know the massive program Ferrari was running at the time, practically around the clock, and the rules and different tires. Schu sometimes had new tires while forever #2 Rubens didn't. Just an interesting point we are at and fun to see why.