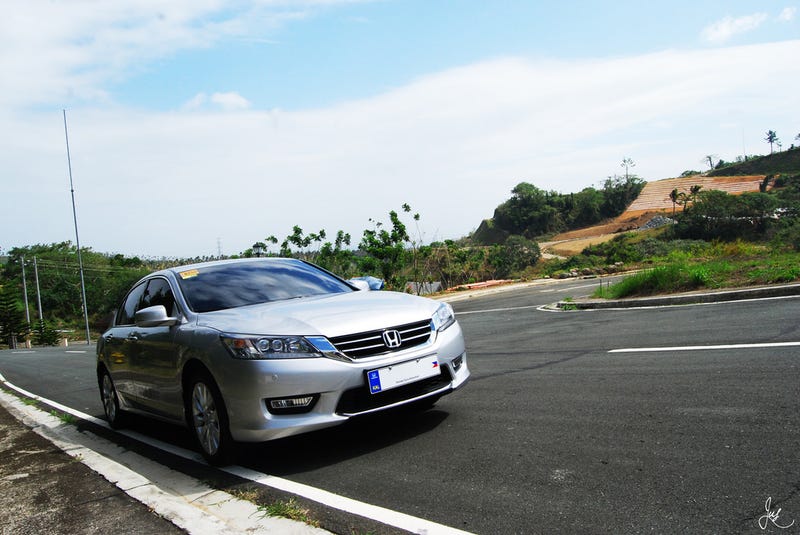 It was a turn of car-related events that happened today, and I had to share it.
The good news was I took a Lamborghini Gallardo LP570-4 Superleggera! My dad and I were on our way to Tagaytay Highlands, a big resort and residential area atop a mountain, and overtaking our Accord was a bright orange Gallardo. I snapped it my Nikon D40X quickly. The driver really had balls as he was counter-flowing in a single two-way road! It managed to get out of my sight...up until it slowed down in a intersection, probably because the driver's passenger was scarred from the ferocity of the V10!
Speaking of V10, when we caught up with the Lambo, I heard its loud V10 bellow roaring through the mountain! It was glorious! Sadly, no video-graphic evidence.
The bad news was, when we arrived, a black Lamborghini Aventador passed by us! Since I had no agenda with the Nikon, I left it in our car...until I saw the Lambo. I held onto my camera hoping for a car meetup to be in the works. Unfortunately, no exotics turned up.
The next good news was that I captured another rarity, an Alpina B12! As we were having our lunch I saw a blue Alpina—surprisingly, the owner parked it properly—and asked my father to park our car there. He agreed.
However, there was the worst news ever: the SD card formatted by itself. In the glovebox, I found a dashcam my dad bought a year ago. I thought of using the Nikon's SD card to record what was happening in front of us. "After all, there will be a new folder for the files," I said. I was wrong, DEAD WRONG. To make room for the videos, the whole SD card had to be formatted, erasing all photos of the cars mentioned and landscape shots. It was a sad...sad situation.
There was a happy ending to the story, sort of. The slight good news was I found a software that can retrieve the lost photos! I managed to get all of today's files, but some seemed to be incomplete. Luckily, there were some that were either nearly or fully complete. Here they are!
I'm surprised the Accord shot and the panorama components were complete!
What a bummer to end the week. If you want high resolution version of these shots, just say so below.