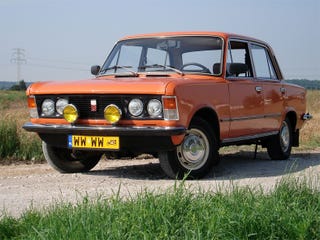 [a Polski Fiat 125p for your time] At lunch today we got talking about boa constrictors and how to get away. I jokingly said that it would be handy to have laser vision, or to just carry a knife with you at all times to behead it, or to get surgically implanted wolverine claws. A coworker laughed, then preceded to tell me how none of my ideas are feasible in reality. -_-. Well, obviously....
After that, I changed my approach, I was going to be realistic. I said "they arn't very fast" and then the coworker immediately shoots me down again..... because they are fast? Yeah....
After that I went into quiet mode. I hate pointless arguments, and I didn't want to get riled up for something as dumb as this.
Anyways, live and laugh oppo. Humor in the workplace is nice because it breaks the monotony. And if someone is being humorous, just roll with it. Sometimes the dumb jokes are the best ones.