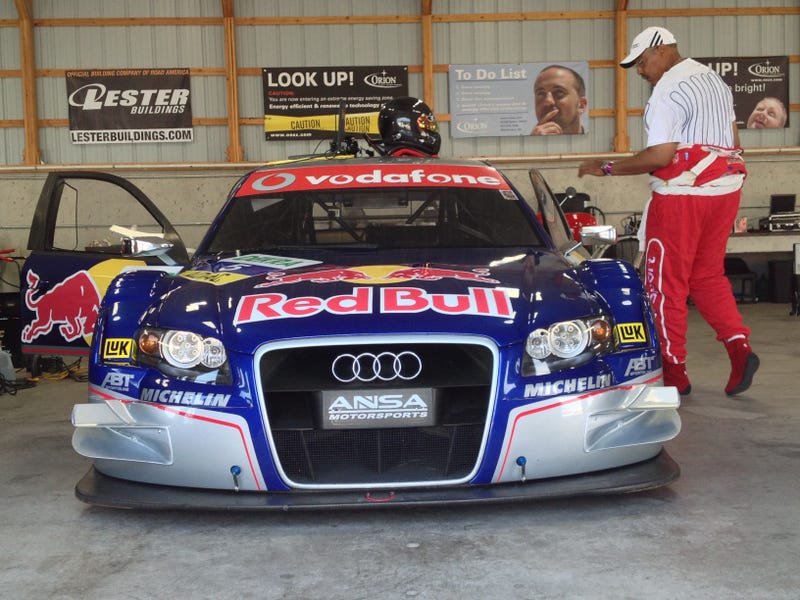 I am still at Wisconsin waiting for the race tomorrow, but I thought I might show some pics of the epic cars at the track. I have about 2 hours worth of video, so expect something from the event. . . amazingly it is not filmed with an Iphone!
Superperformance GT40R.
Dem hips
Simplify and lightness. These 23s are such small cars.
Someone actually imported one of these. I am in awe!
I think this is some sort of Merc, maybe a BMW. OOoooooooooo Its an Audi. . . I had no idea(yes I did, its a Quattro for crying out loud!)
And right across the one quattro there is another.
HO-LEE SHIT! A 196 Dino!
Aston Martin DB9. Yes Mister Bond.
If you ever go to a vintage race, you HAVE to check out the car park. It is full of amazing things! Remember that Quattro? 3 cars away from my Dad's car.
Oh yeah, so classy. There was also a Turbo R, but I didn't have time to take pics of it.
Another jaw-dropping car, a 250 GT Berlinetta LWB.
Followed by another one

Is this a Cord 810 or 812? Either way, it is awesome!
Did I ever tell you how loud Can-am cars are because THEY ARE LOUD! I decided to hear one start up, best decision ever!
I don't like the 458, but a racecar version is always better.
Take a quick guess. . . I think its a Ferrari. . . you know Ford V8. I mean what company would use the Ford/Cosworth V8, Mclaren? Psh.
Ferrari 312P. IT SOUNDS AMAZING! I just want to have babies with it
Velocity stacks get all the chicks.
Pics, it did happen.
These two sounded amazing! Flatplane crank FTW!
This car was too damn quiet!!!
These on the other hand, are just right. In otherwords, they hurt your ears. Also T70s are sooooo pretty!
Jaaaaaaag V12
Tis a Celica
I count 20 Beetles, how about you?
Maserati V6 and the smoothest ride. . . In the WORLD!
F430, the last good sounding Ferrari. Hopefully the LaFerrari will sound less synthesized.
This sexy beast was next to these sexy beasts.
x2, the other was grey and yellow.
Another Lola mmmmmmmmmmmmmm.
These DTM cars have such crazy aero! SO CRAZY!
Mclaren M1B, the best looking car to come out Mclaren.
Everyone complains about the Jaguar E-types tiny wheels. Ruins the looks. Not here, this thing looked amazing.
A LAMBORGHINI JALPA! The first I have ever seen. I promise it looks better in person.
Oh yeah, another E-type. Series I. Pretty but it needs phatter tires.
Talk about awesome.
Let's end this with an underwhelming note. A Datsun 510, just not the one you want.
These are only the cars I took a picture of, there were so lots of cool cars racing!
EDIT: These are the pictures that DIDN'T show up. . . for some reason.
Pantera GTS. So yummy.
What BMW is this?
Volvo P1800, the rear looks really nice on this.
I had an Alfa overload, I have never seen any in my life. Now I have seen some of my favorites.
Series 2 Spider, the prettiest of the Spiders
My favorite Alfa, a 1600 GTV
More Alfas. 1800 looked awesome!
what Lancia is this?
A Saab 96 with its Ford V4.
It is a Ferrari California! I couldn't take more pics, as I was really far away, and he was moving
Ready for Can-am pics?
Omnomnom
This thing has a straight up bellow from hell. Jag XJR-5
MKII of course. The best version.
Thats all folks.