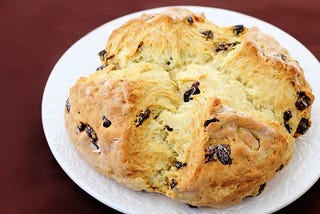 Time is coming around again for everybody to pretend like they are Irish for the day on the 17th. Me, I just make a boiled dinner and this soda bread, from a good friends g-gma, who is damn sure Irish. And drink beer at home to avoid amateur hour at the bars. So enjoy, this is the best recipe going for soda bread.
Grandma Carney's Irish Soda Bread Recipe

4 cups all purpose flour

1/4-1/2 cup sugar

1 teaspoon salt

1.5 teaspoons baking soda

1 teaspoon baking powder

1 3/4 cups buttermilk

1 cup raisins (my mom likes to soak in boiling water to soften)

1 tablespoon melted butter

Preheat oven to 350. Sift dry ingredients together in mixing bowl. Add buttermilk, stir until moist. Stir in drained raisins, add flour if necessary. Knead ten times on floured board. Form into round ball on greased cookie sheet or cast iron pan. Cut a shallow cross on top. Bake 50-60 minutes or until golden brown. Rub butter over the top of warm bread.