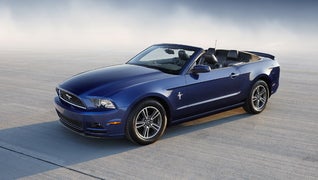 So after pointing out to the Avis counter that a mid-size Kia is not, in fact, a full-size car, the consolation prize is the darling of the SoCal/Florida rent-a-car fleet: The V6 autotragic Ford Mustang.
The autobox gearing is absolute shit. First is way too tall, and like most autoboxes of recent vintage, it loves to run up to 6th and stay there. At least Ford has a "Sport" program on the autobox, which the rest of us would call the "Normal" program.
I've given the tires some pain, but even if you switch off the T/C, it remains on if the stability control intervenes. I suspect you can switch that off if you are in park (or some nonsense). So I'll try that.
It's not my Z4, but then again, why would you expect it to be? It's like the Dodge Charger, shrunk a tad, and then the roof chopped off. And I liked the Charger.
For a rental, I'm giving this a thumbs up.