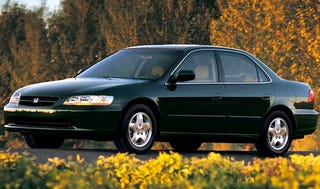 I am currently sitting in Denver International Airport, comfortably ahead of my flight's boarding time instead of biting my nails waiting for the public bus thanks to the kindess of a cool guy named Carlos.
The place where I rented my Versa in Denver is quite a ways from the airport, which itself is really far from the city, so I intended on making the trip via public bus as I did on the way into the downtown area. The bus stop is about a half mile from the rental car place, and As I timed the car's return today I left plenty of time to make the walk in reverse. The only problem is that I did it in 60 degree sunshine last Thursday, and today I'd be dealing with the aftermath of a decent little snowstorm - icy sidewalks and slush lakes abound - while toting a perilously overstuffed roller duffel bag.
So I'm gamely struggling along, continuously hoping that the next block will indeed be the one, even though it never is, when suddenly a man in a 2001 Accord pulls up and asks if I need a lift. I look down the road and see that my bus stop is actually two long blocks away and tell him so, but he insists on taking me the way, and fuck if I'm going to keep walking on these unplowed sidewalks. I throw my bag in the back and hop in.
Carlos is a very cool guy driving a manual Accord (on which I comment immediately after getting into the passengers seat - he chuckled and flicked the shifter back and forth in neutral. "Yeah, it's fun."), and as were waiting at the light to turn to get to my stop he insists on driving me to the bus depot where I would have to transfer to the airport bus. Alright then, I know better than to look a gift horse in the mouth. So we're talking about this and that - the weather, Mexico (he had an awesome accent, and my fiancée is Mexican), life - when he turns to me at a light and says "You know Kyle, as a good last impression of Denver, I'm going to give you a ride all the way to the airport." I almost start laughing because I can't believe he's going to go forty minutes out of his way to drive a stranger to the airport. But he's serious, and takes me all the way to the terminal.
On the way he told me that one time he was in a minor car accident and had to take the bus home, but misinterpreted the map and ended up walking more than a mile to the stop. As he went along his way a kindly stranger stopped to give him a ride, and he vowed one day to do the same. I told him he seriously upped the ante by taking me all the way to the airport, and he smiled. So I guess I have to do something like this now!
So two lessons here - it's ok to get rides from strangers sometimes, and Mexicans really are the nicest people.