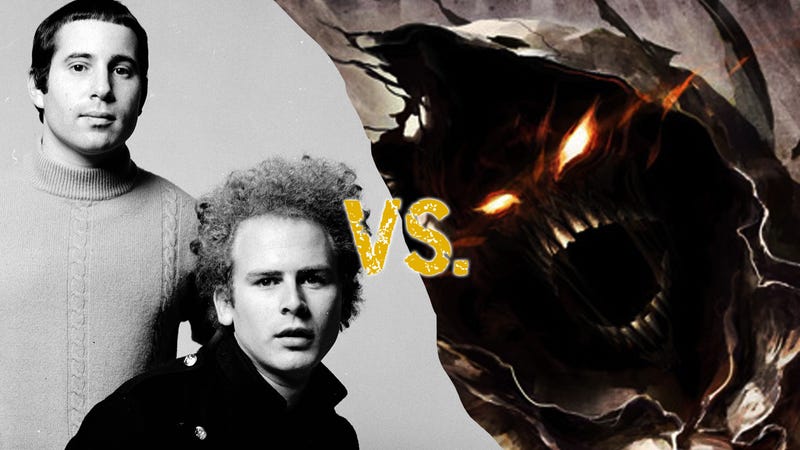 Hello, Oppo, my old friend. I've come to survey you again.

Unfortunately work/life got in the way and there wasn't a showdown yesterday. But we're going to make up for that right... after a review of Firday's showdown.
The battle between Journey and Rise Against for the better variant of Journey's song "Any Way You Want It" was incredibly close, with the two never more than three votes apart and both leading at some point. Ultimately, after spending most of the weekend separated by a single vote, Journey managed to hold on, taking it by three. Our sympathies go out to TFritch.

The Sound of Silence is, quite literally, the song that saved Simon and Garfunkel. Simon spent months writing the song, and the duo used it for their audition for Columbia Records. Columbia signed the duo, and the song was featured on their 1964 debut album, Wednesday Morning, 3AM. Unfortunately the album was a flop, and the pair broke up, with Paul Simon returning to Europe and Art Garfunkel returning to Columbia University.

In the spring of 1965 the song started getting steadily increased airplay in Boston and Florida, and the growing popularity caused the song's producer, Tom Wilson, to remix the song (without telling Simon or Garfunkel), dubbing in electronic instruments and percussion on top of the acoustic guitars the duo had used in the original recording. The remixed version was released in September 1965, and by New Year's it was #1 on the charts. The pair hastily reunited, going on to become one of the most prominent folk groups of the 60's.
Disturbed recently covered the classic hit, bringing to it a darker, more dire tone which sits in stark contrast to the folksy sound of the original, particularly when played back to back. But is it better?
Simon & Garfunkel - 1964

Disturbed - (2015)
In case you want to join in the massacre of Spiderbait, or attempt a noble rescue of Spiderbait, the Black Betty Battle still has two hours left.