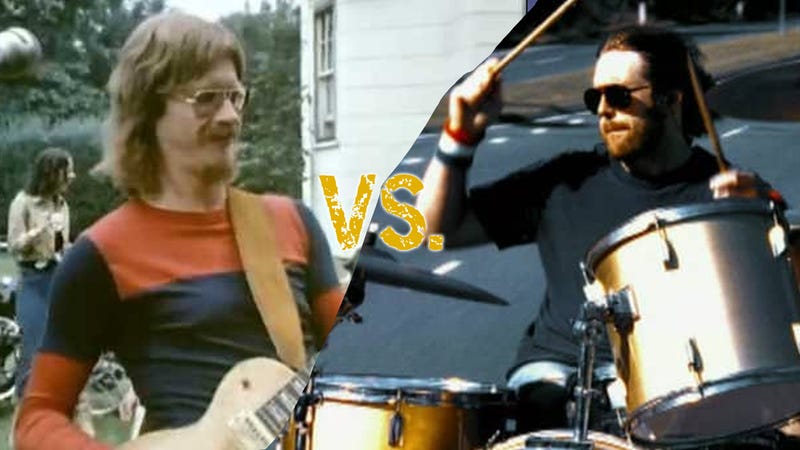 In true Oppo tradition, we bring back the one song we're contractually obligated to include in all Oppo song battles.
Let's start by getting caught up on some results. Unfortunately due to work I wasn't able to add in the results from last week's rounds into any of the showdowns, so here's the full week recap:
Johnny Cash absolutely destroyed Nine Inch Nails for the best version of Hurt, taking it by a margin of 33 votes. In retrospect I wish I'd used the live Nine Inch Nails version, which was actually influenced by Cash's cover (a band playing a song influenced by a different artist's cover of the band's song. That one needs a flow chart to keep straight), but while it may have swayed some voters it probably wouldn't have changed the outcome.
In part one of a Chili Peppers doubleheader, the Chilis took an upset victory over Stevie Wonder, winning by seven votes. Their attempt to go undefeated died in the second half of the doubleheader though, as Ohio Players were able to successfully defend "Love Rollercoaster," despite the Chilis getting the kazoo vote.
And finally, the Foo Fighters just barely edged out Roky Erickson on Roky's song "Two Headed Dog," winning by just two votes. This is the one outcome I was saddened by, because, as I said in the comments, Roky's guitar and vocals are dirty as fuck and I love it.
The Friday showdown, a battle between Journey and Rise Against, still has two hours to go and is nearly deadlocked, as Journey currently leads by a single vote.

For those of you who weren't around two years ago, Arch Duke ran a competition of his own, titled "The Great Beatoffnik," an attempt to find the best driving song......... "in the world." Ram Jam's "Black Betty" beat out 63 other songs to earn the title, but comments throughout made one wonder if Spiderbait's version of the song was swaying voters into the Black Betty camp.
Or, in some cases, away from the Black Betty camp...
I attempted to solve the problem with the first round of Battle of the Covers. But, after three days of voting, we solved bupkiss.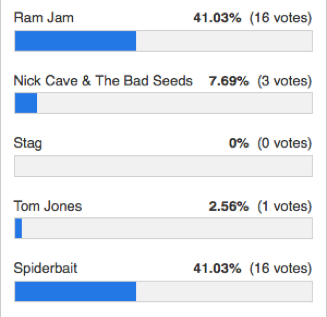 So now, with no third party candidates to steal votes, and no Tom Jones to send potential voters running in terror (I was going to add a link here, but y'all don't deserve that), we shall finally, once and for all, put the debate to bed: Ram Jam or Spiderbait.

---
Ram Jam - (1977)

Spiderbait - (2004)
There's just two hours to get your votes in on the battle between Journey and Rise Against, so if you haven't voted on that one you best get in there now.