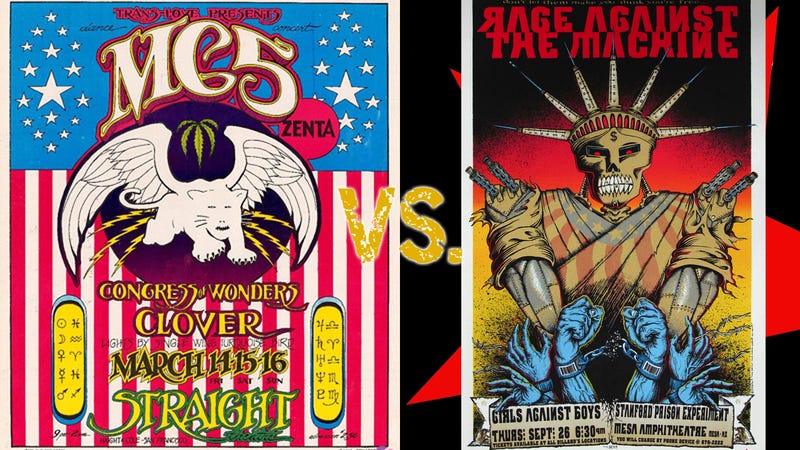 Right now, right now, right now it's time to...
VOTE ON SOME JAMS, MOTHERFUCKERS!
The Rage Renegades album is noting if not diverse in the songs the group covered. On Monday we had them covering rock legends the Rolling Stones, yesterday it was the hip hop group Cypress Hill, and today it's the Detroit protopunk band MC5 and their controversial song "Kick Out The Jams."
The controversy surrounding "Kick Out the Jams" stems from the song using the word "motherfuckers" in its intro, something that wouldn't raise an eyebrow these days but was a big deal back in 1969 when the album was released. The band took it a step further by initially having "kick out the jams, Motherfuckers!" printed on the inside album covers. These records were quickly pulled from the stores, and there were two versions upon re-release, a version where the song intro was censored, and an uncensored version which was to be sold from behind the counter. The controversy was escalated when Hudson's department store refused to carry even the censored version of the album. MC5 responded by taking out a full page ad that simply featured an image of lead singer Rob Tyner, the Elektra logo (the record label the band was signed to), and the words "Fuck Hudson's." Hudson's in turn responded by refusing to carry any Elektra label albums, ultimately forcing Elektra to bow under the pressure and financial loss and drop MC5 from their label. Meanwhile Jefferson Airplane also released a song with the word "motherfucker" in it, which bothered absolutely nobody.
MC5 - (1969)
Rage Against the Machine - (2000)
Rage round 1 ends at 3 PM today
Rage round 2 ends tomorrow