I am going to make you all hate this car, but it's the first car I'm actually buying and it's a damn peach so fuck yo feelings.
1998 Canadian market Honda Civic LX. 5 speed manual, D-series non-VTEC engine, block heater, steelies (hell yes steelies), and some other goodies such as...
Stolen tail lights
New shift knob, rather nice if a bit boy-racer seat covers, and an excellent short-shift kit
Cheap but decent aftermarket head unit (AUX JACK!!!). Is also already wired for an amp and sub.
Cold air intake and no battery
aftermarket projector headlamps that are incredibly fogged over, but they have both angel eyes and those weird glow-some-weird-color thing for the projector (devil eyes?)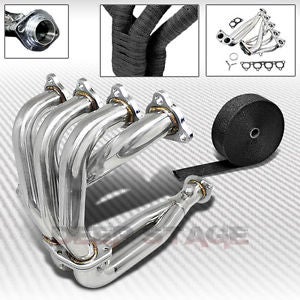 An SS Exhaust header and downpipe. This, annoyingly, is the only part of the exhaust still on the car. The rest got stolen along with the tail lights. Bastards.
.
.
.
.
.
So here's a breakdown of things I need: Battery, tail lights, some pipe to fab up a new exhaust (will use the stock muffler from the lesabre so it's quiet), and possibly some injectors because it doesn't like idling much. However, I drove it around a bit and holy SHIT after DDing the Murdersofa so much this thing is next-level quick, and the 7k redline is insane.
The interior is in pretty excellent condition, the hood has some hail damage but the paint is generally pretty good save for the roof which I'll probably rattlecan a-la Jay Lauer's 420 Blazerit, and I need to defog the headlights and figure out why the passenger side halo doesn't work.
I need to save up a few dozen more bucks for taxes, which I totally forgot about, then this shall be mine. I'm hoping to be driving it in two weeks.
Also, I fixed my Buick's electrical issues! Well, some of them. My OBD2 port blows a fuse if I plug anything into it, which also disables my garage door opener and my trunk lid actuator. Yeah, I dunno. So now after replacing three fuses I just don't plug anything in anymore.