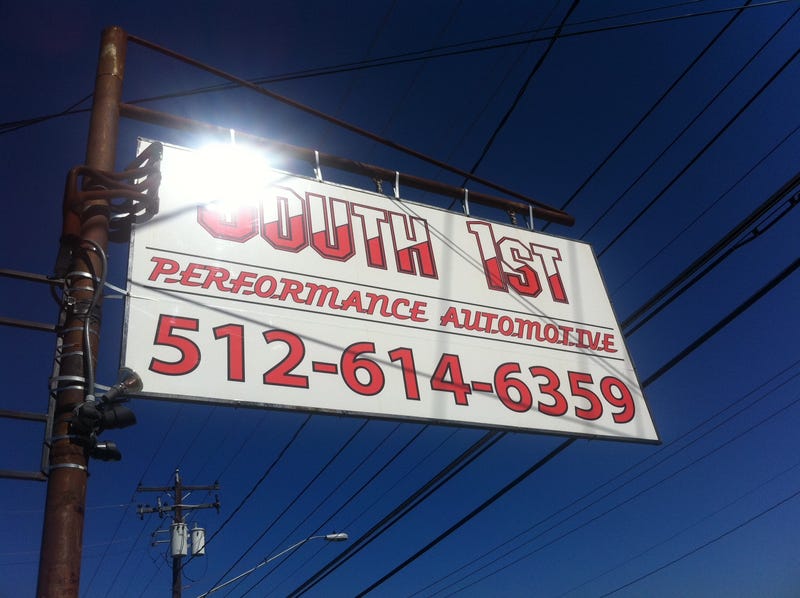 So last Friday I woke up just like any other except this was the first friday I had my car back . If you don't come here often and aren't aware with what that car is its a 1976 Datsun 280z that I just recently (2 sundays ago) got completed.
Looking forward to my drive to work in the beastly datassun. I got ready had my coffee as if it was just another day. Little did I know a man hole on South Lamar in Austin Texas had different plans for that Friday.
As I came down south Lamar right before Barton Springs road I hit a man hole cover with my oil pan. Granted the oil pan was low to begin with but this man hole cover was ... well idk what it was Fuck that man hole cover. Anyways after impact I immediately put the car in neutral and started to coast down the hill. Shortly after (2 2 or 3 seconds) I saw some smoke. I killed the engine and coasted into the H20 Parking lot at South Lamar and Barton Springs.
Now here's where the shit show starts. I called South 1st Performance . It's a local shop that I drive by every single day and talked to phil (bitch nigga) the owner. Phil was very friendly over the phone and offered to pick the car up and tow it back to his shop less than 2 miles away. I agreed after he told me he wouldn't want anything more than 50 bucks and he towed the car back to his place. Keep in mind this is all on Friday of last week.
After he received the car I waited all day long to hear back after I had to leave a voicemail he finally returned my call. Said that he shouldn't have any problem getting my car done in no time and that my oil pan was too far busted to fix. (found out later he didn't even look) So I should get a F-body pan which would give me a additional 1.75" clearance. I agreed with Phil and ordered one the same day (friday night) I confirmed with phil that when the pan gets in he will be able to do it the same day so me wanting the car I've been working on for months now back in my life pay for a pan and pay for the over night shipping (NOT FUCKING CHEAP) I also got a new oil pickup tube and windage tray .
Monday the pan and everything arrived and I lucked out having a smoking hot GF who loves me and my datassun that was willing to take the parts to Phil (south 1st performance) in the morning as I was at work per the usual . This is where I start to get upset. I expected to have my car back Wednesday but I don't hear anything from Phil Tuesday or Wednesday . Thursday morning I called Phil no answer . I called him again at lunch time no answer... So I had my gf run up there and get my keys because at this point I'm livid with the lack of customer service and ignoring my phone calls.
I had her ask Phil if he had time to get the car on the lift and take a look at it yet. He responds that he has a lot work going on today while stuffing his face with a burger. Following it up with tomorrows booked too (keep in mind he said he could have my car done it a few hours- a day)
Here is where South First Performance losses my business and hopefully all oppo's/jalops business for life. When I originally spoke to Phil he said the tow would be 50 bucks . No big deal but if you know South austin you know that my car was less than 2 miles away from his shop. WALKING DISTANCE !!!!! so 50 is a little high but fuck it right ? When I had the woman tell phil we wanted the keys back because he hasn't done a single thing to my car in 6 days of having it . He says well come bring me 80 bucks for that tow. At this point I'm past livid and I blow Phils phone up until he answers my fucking call. I let him know I'm not paying him 80 bucks I'm not paying him 75 bucks . I'm paying 50 bucks like you originally said and I shouldn't even pay that after the pathetic excuse for customer service you delivered.
The woman then runs to the bank to get his tow money and he starts to hit on my GF!!! Tried to give her his number if she has any car troubles to come see him and calling her alligator . If I didn't have a car to fix on my hands I'd be up there telling ole phil how many different ways he can go fuck himself.
So long story short don't take anything not even your Go ped to South 1st Performance because all they perform is BULLSHIT!