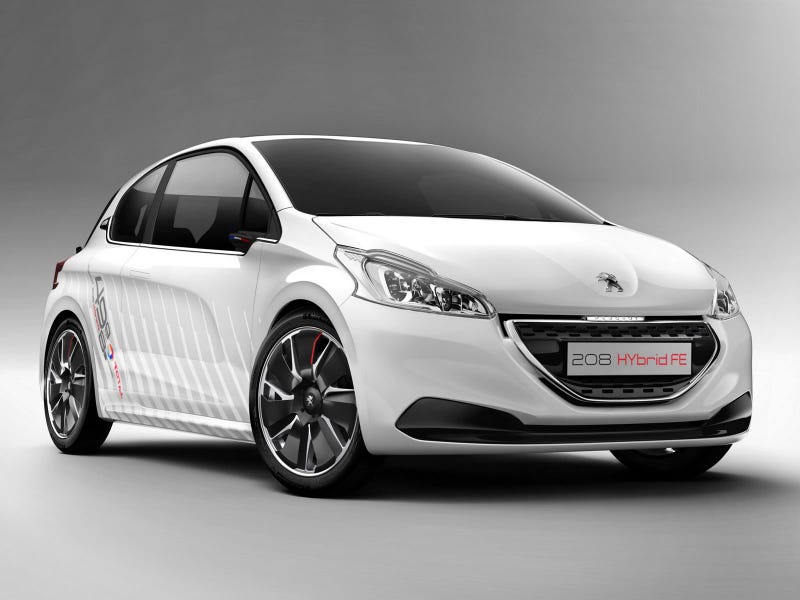 The 308 R Concept isn't the only attention-grabbing production-based concept car coming from Peugeot. This 208 FE Hybrid Concept may look like it's just a regular 208 with cool wheels and no mirrors, but let's throw some stats at you: at 775kg, it's 200kg (440lbs) lighter than the base model 208! It'll also return 135mpg (112 US) and spit out just 49g/km of CO2. That's because it's a hybrid, with a novelty 12-mile all-electric range and a 40bhp motor supplementing the engine. Said engine started out as their 1.0 three-cylinder unit, before it was bored out to 1.2 litres and modified to run on the Atkinson Cycle, which makes it more efficient. That's literally all I know about the Atkinson Cycle. The engine is also expected to feature a racing cylinder head and diamond carbon coating - ooh, fancy - while the regular fuel tank has been replaced by a smaller one with a capacity of 20 litres. The 0-62mph time is around 8 seconds.
Out back, the rear has been given a more aerodynamic but quite blocky tail, while the wheels are low-drag 19-inchers on skinny, low-profile tyres, and the mirrors are now cameras, something I firmly believe should become available on every car as soon as possible.
Expect both concepts to appear at the Frankfurt Motor show in the middle of next month.