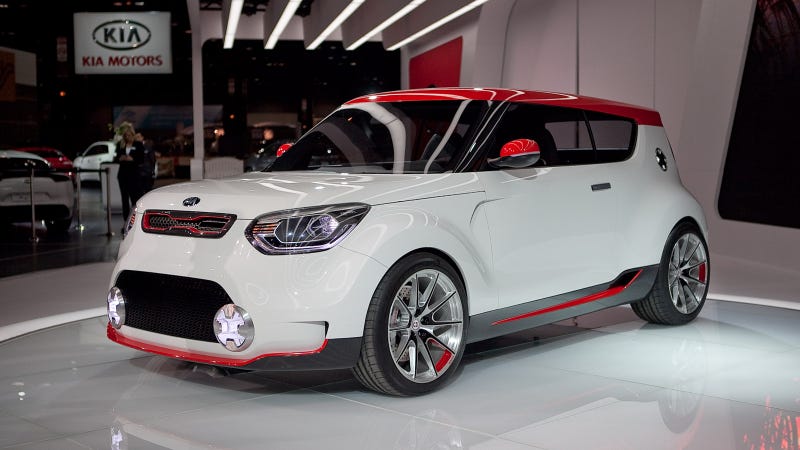 Well since the mid-cycle refresh of the Soul is the topic of the night I guess I'll take the opportunity to bust out a speculation for the upcoming generation. I know it seems early but by this time next year we'll probably have the third generation revealed and preparing to go on sale 6 months later.
2019 Kia Soul Lineup
Kia Soul Base - Starting around $18,300
164 hp, 2.0L I4. FWD-only, 6AT-only. 24/31 mpg.
Kia Soul Plus (+) - Starting around $20,300
175 hp, 1.6T I4. FWD/AWD, 7DCT-only. Up to 28/33 mpg.
Kia Soul Exclaim (!) - Starting around $23,900
201 hp, 1.6T I4. FWD/AWD, 7DCT-only. Up to 26/31 mpg.
Kia Soul GT - $29,800
235 hp, 2.0T I4. AWD-only, 7DCT-only. 24/28 mpg.
AWD will add $1,400 to the start prices and drop fuel economy by 1 mpg city/highway. I wouldn't expect any hybrid or electric models next generation simply due to the Kia Niro handling that position.
Bonus, Automotive Reminder
The 201 hp, 1.6T in the 2017 Kia Soul Exclaim was supposed to be introduced TWO YEARS AGO! However the suspension, tuning, and brakes weren't ready in time for the Winter 2014 launch. Instead of pushing it to 2015, Kia favored introducing it with the mid-cycle refresh this year. This is the reason I'm "meh" to the "turbo" Kia Soul.
By the way, the Kia Soul is one of the best driving Kias hands down. I've had the 1.6L and the 2.0L versions as week long rentals and wish theit other vehicles (including the Cadenza) had the same level of composure for their segment.