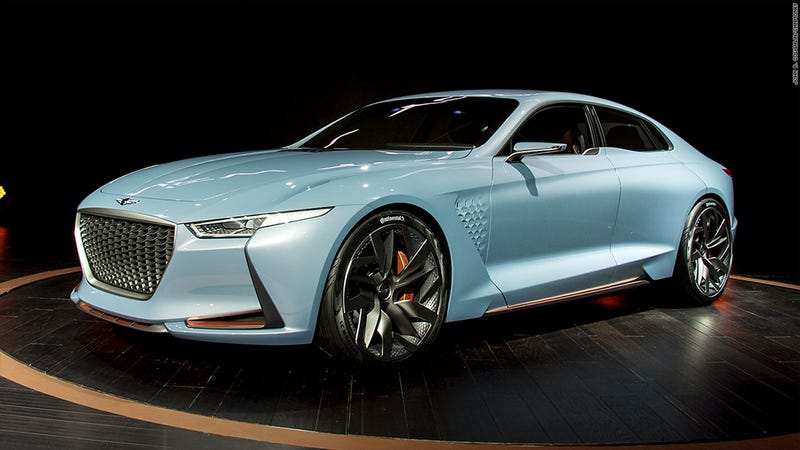 The Genesis G70 compact sedan looks to be going on sale between October and the end of 2017 for the 2019 model year. This is the Kia Stinger's platform and powertrain mate happens to be smaller. It will be billed as a direct 3-Series competitor but it's going after Infiniti Q50 (which is extremely successful) and the Lexus IS. Expect the same 2.0T producing 255 hp / 260 lb-ft and 3.3T producing 365 hp / 376 lb-ft as The Stinger plus a hybrid G70 to sit inbetween the two.

The mid-sized luxury SUV will be based on the Lotus-tuned "H-Series" platform that is exclusive to the Genesis brand and is underneath the current G80 and G90 (the K900 is on the first generation Genesis Sedan/Equus platform and will be discountinued without a "sedan" successor this year). The 2019/2020 Genesis GV80 will be a Volvo XC90 sized vehicle and I guarantee that is the actual benchmark they are using though they'll market it against the GLE and X5. May be the last vehicle to receive the naturally aspirated Tau V8 in addition to the 3.3T V6 and 3.8L V6. It should appear at next year's NAIAS and go to market in early Fall 2018 just in time for SUV-season in the US.
The 2020 Genesis G70 Coupe should be going on sale in early Summer of 2019 which is where all the talent HMG has been scooping up will finally consolidate on one car. No manual so don't get your hopes up. It will be marketed against the 4-Series and C-Class Coupe but really it's aiming to take market share away from the Infiniti Q60 and Lexus RC.
The last model will be the Genesis GV70 compact crossover which go on sale likely around December of 2019 for the 2021 model year. It will be built on the same platform as the Stinger/G70/G70 Coupe. This is going to be a compact CUV that they will compare to the Porsche Macan. It will be geared at being whatever the updated QX50.
Summary:
*Pricing is from bottom to fully loaded.
Genesis G70 Sedan - on lots Nov 2017
*3-Series sized. RWD/AWD. Engines would be 2.0T I4, Hybrid, and 3.3T V6. Priced $30k-$48k.
Genesis GV80 SUV - on lots Aug 2018
*X5 sized. RWD/AWD, 2-rows. Engines would be 3.8L V6, 3.3T V6, 5.0 V8. Priced $49k-$67k
Genesis G70 Coupe - on lots May 2019
*4-Series Coupe sized. RWD/AWD. Engines would be 2.0T I4, Hybrid, 3.3T V6, HO 3.3T V6. Priced $33k-$59k
Genesis GV70 CUV - on lots Jan 2020
*X3 sized. RWD/AWD. Engines would be 2.0T I4, Hybrid, and 3.3T V6. $35k-$51k.
This premium brand should go very well because they are introducing things AFTER the Kia versions. For a long time Kia has had the advantage of Hyundai hitting the market with new tech and platforms, getting reviews and feedback, then updating their products just before they go on sale 6 months later. Now Genesis is doing the same with Kia, they'll get all the feedback on the Stinger then adjust the G70 accordingly.
I also think we are going to get a 430 hp / 445 lb-ft version of the 3.3T in 2018, so don't think the Stinger GT is in its finally form yet nor the upcoming G70 Sedan or G70 Coupe. I'm also expecting this motor to phase out the Tau V8 and an eventual 3.8T V6 to appear as the future top performance engine.