I've always been a reader, and since I now have this bully pulpit here on Oppo, I thought I'd take advantage of it to create an occasional column called "Speed Reading", where I review new, and especially old, books on auto racing.
I'm currently working my way through an English translation of "Starting Grid to Chequered Flag", the autobiography of Belgian driver Paul Frère. Frère won the 1960 24 Hours of Le Mans, competed in 11 Grands Prix from 1952-1956, and was a respected racing writer as well.
When I finish the book, I'll put up my review.
If you have a book you'd like me to tackle, let me know in the comments and I'll try to track it down. (If you recommend a book that's neither English or French, I'm pretty certain I'll never be able to do it).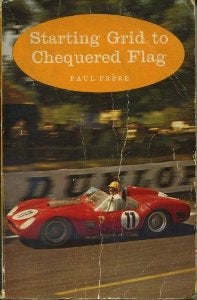 .