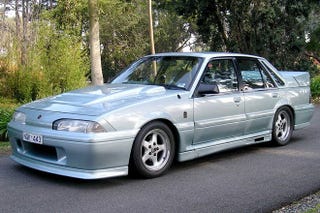 There have been a few special Holden Commodores over the years. Today I saw one. I present to you the Walkinshaw VL.

A homologation race car with a wild-for-its-time bodykit and a fancy V8 or something ('coz 'straya), only available in silver they're not hard to spot if you're lucky enough to be in the presence of one.

It was with a group of other fancy Commodores (though none quite so fancy) out for a Sunday cruise. I didn't spot the king in there (the 7L W427), but I have seen one before. My car spotting skills are dope.

Here's a listing of one for sale near me. The same dealership has an Enzo, LaFerrari and a Bugatti EB110 - that's the sort of status this car gets over here.