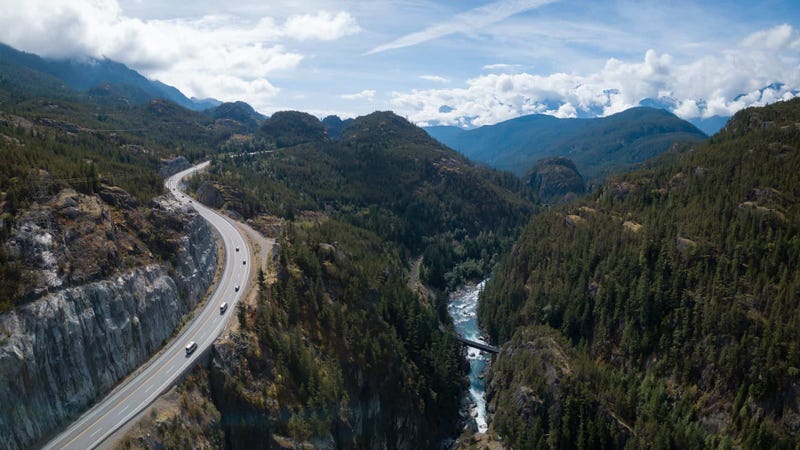 This Spring (May 11th & 12th), we will be driving the te Coast Mountain Circle Route. This will be a stunning vacation/drive combo. 400+ miles of coastal, mountain and canyon highway over 2 days. We will start and finish in Metro Vancouver near the USA/Canada border. Beautiful, scenic PNW sights and attractions will be planned throughout the trip.
About the Trip:
I've planned this as more of a drive/vacation combo to make it more worth it for people who may want to travel here alone or with significant others/family. We won't just be in our cars, but the driving will be great. If you want to split off at our stops and meet up later, this drive is designed to accommodate individual/small group activities.
Budget wise, I've tried to pick restaurants that are casual. The Sea to Sky Gondola is worth it. The rest is up to you regarding what you want to do in Whistler and where you want to sleep.
Driving wise, the second day will be heavier in terms of mileage as it is mostly mountains and canyons from Whistler onwards back to the Vancouver area with little in the way of attractions/towns. Just nature.
The route follows a set Highway with no real options for deviation and lots of lengthy stops. We should also be within cell range at all times. I can almost guarantee that accidental separations will not occur.
Spring will come quickly: plan ahead for bookings, rentals and flights.
Planning/RSVP:
As the date gets closer, I will update with meeting times/tweak any stops if needed. But what you see below is fairly set in stone.
We've selected May 11th and 12th.
If you are planning on attending, please fill out the RSVP here.

General Info:
Bring appropriate jackets for Spring in the PNW.
Bring adequate parts/emergency equipment if needed.
The Drive:
You can get the detailed maps of the drive from BC's Tourism site here, the drive is described below in point to point form with map links.

Meeting Points:
Cross with full tanks. Gas is quite expensive here, and we won't be stopping for fuel until Squamish.
The first meeting point will be Pacific Gateway Village in Surrey, BC. Close to both main border crossings. Just take I-5 and get off at exit 275. Once you cross into Canada, it's just a few miles North on your left (heading North).
In order to better accommodate Vancouver dwellers/assist in possible separation scenarios through Metro Vancouver, we will then drive to Capilano College in North Vancouver, meeting at this parking lot. This is so people who live west of Surrey don't have to first drive east.

From Capilano College, we will drive to Porteau Cove Provincial Park for photos and a break.

From the Porteau Cove, we will make the short drive up the Sea to Sky highway to Sea to Sky Gondola. It's $40CDN to go up, but it's stunning with hiking, the suspension bridge and views. We will spend some time here to make it worth it. Parking is ample here.
From the Sea to Sky Gondola,we will drive to Squamish for lunch at Howe Sound Brewing and to fuel up at the Chevron in town. Then on to Whistler. Once in Whistler, we will park in this lot or at your accommodation of choice and have dinner in the scenic Whistler Village. We will spend the rest of day 1 here. There is ample accommodations at every price range and camping around the town if so inclined. Highlights of the village include walking, shopping, sightseeing, gondolas, clubs and hikes.
The next day, we will meet for breakfast coffee and begin the drive from Whistler, back to Vancouver via Pemberton, Lillooet and Lytton. As mentioned in the "About the Trip" section, the second day is nearly pure driving. We will stop at Hells Gate in the Fraser Canyon to take photos and stretch our legs.
From Hells Gate, we will drive to Harrison Hot Springs, a resort town famous for its natural hot springs, and have lunch. After lunch, we will drive about an hour back to the first meeting point and conclude the drive. This will ensure that anyone coming from Seattle is home way before dinner.
Other People's Drives:
Time to tempt you with some Sea to Sky shots