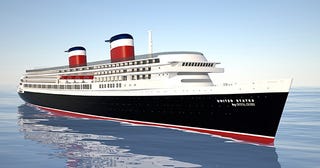 By now, many of you have probably already heard the news. The secretive "big announcement" that the SS United States Conservancy was planning was revealed last week to be a deal with Crystal Cruises to buy the ship from the conservancy, and completely rebuild it for luxury cruise service, with a planned re-entry as soon as 2018.
This was far and away the last thing anyone expected. Until now, most assumed the conservancy was working to preserve United States in a static role as a permanently moored hotel/convention center, a la Queen Mary and Rotterdam. After all, we are talking about a 60+ year old steamship that's hasn't moved under its own power in over 45 years. Even doing that sort of preservation was a long shot. But, returning the ship to service, and for one of the world's most exclusive and expensive cruise lines, was a welcome surprise.
If it feels like we've been here before, it's because we have. In the late 1970s, roughly 7-8 years after United States was laid up, Norwegian shipping tycoon Knut Kloster, founder of Norwegian Caribbean Lines (now Norwegian Cruise Line) initially investigated United States for conversion to a cruise ship, before buying SS France instead. In the early '80s, United States was purchased by real estate investor Richard Hadley for a new venture called United States Cruises. He developed some detailed plans to rebuild the ship, and held an action to sell off all the furniture and fittings in preparation for the renovation. But, the funding never materialized and United States Cruises went bust.
In the early '90s, a Turkish shipping company, Marmara Marine, acquired the ship and announced plans to rebuild it for part-time transatlantic service. United States would be managed by a consortium of Cunard Line and the Finnish shipping company Effjohn, and operate in tandem with Cunard's own Queen Elizabeth 2. The ship was towed to Turkey, where the interiors were totally gutted down the the steel bulkheads, then towed to Ukraine, where the asbestos removal job was completed. Effjohn's Cunard Crown Cruise Lines joint venture proved disappointing, and they opted to wind down the operation. United States was left in limbo, nearly sold for scrap, then sold and towed to Philadelphia, where she has sat for the past 20 years.
It's the final failed revival that is most pertinent, however.
In 2002, Norwegian Cruise Line worked out a deal with the US Government, giving them the right to transfer a foreign-built cruise ship to the US flag for operation in Hawaii, in exchange for purchasing the two unfinished government-financed cruise ships left abandoned in Mississippi when American Classic Voyages Company collapsed in bankruptcy after 9/11. To strengthen its position in Hawaii, NCL purchased the 1951 built Independence, which had sailed for AMCV until 2001, as well as the United States. The mail goal was probably to prevent anyone else from buying those two Jones Act compliant hulls and starting a competing Hawaiian cruise service, but NCL did spend a lot of money maintaining and storing United States and commissioned a detailed engineering survey of the ship, and developed some fairly advanced plans for a rebuilding as a modern cruise ship.
Unfortunately, the Hawaiian cruise market proved too small for the three cruise ships NCL America introduced there, and the US-flag fleet was cut down to just one. The 2008 financial crash ended any hope of rebuilding United States, and, after another scrapping scare, NCL sold the ship to the SS United States Conservancy for a token sum.
Here's where it gets interesting. Norwegian Cruise Line's biggest shareholder is Genting Hong Kong, the same Genting Hong Kong that recently completed the purchase of Crystal Cruises from the Japanese NYK Lines. Through NCL, Genting knows quite a bit about the United States' design and current condition, and has a better understanding than anyone of exactly what would be needed to rebuild the ship and put it back in service. The proposal to rebuild the ship for Crystal is very likely a revival of the aborted NCL America plan from a decade ago.
On the surface, it seems kind of ridiculous. Take a 64 year old ship, with a narrow beam, low ceilings, and no private balconies, and spend $1 billion rebuilding it, when you could build a modern cruise ship twice the size for half the money. If it was any other company, I would be suspicious, but the Genting connection is what makes this seem realistic. They would know better than anyone if this wasn't a viable plan, and they've decided to go ahead anyway.
It isn't a done deal yet, though. What Crystal has bought is a 9 month option on the ship, with them paying for the maintenance and berthing costs during that period, while they conduct a through evaluation of the feasibility. They could still decide 9 months from now that the plan isn't viable and walk away, but the fact that they're interested at all is extraordinary.
To make the ship competitive, the rebuild would necessarily mean extensive alterations to United States' iconic profile to add the massive amounts of private balconies modern passengers expect. It will also mean the removal of the ship's entire powertrain, the only remaining unaltered parts of the interior. However, Crystal has promised to recreate many of the original Mid Century Modern First Class public rooms to their original appearance, and has stated that the new engines would be powerful enough to maintain the ship's status as fastest in the world.