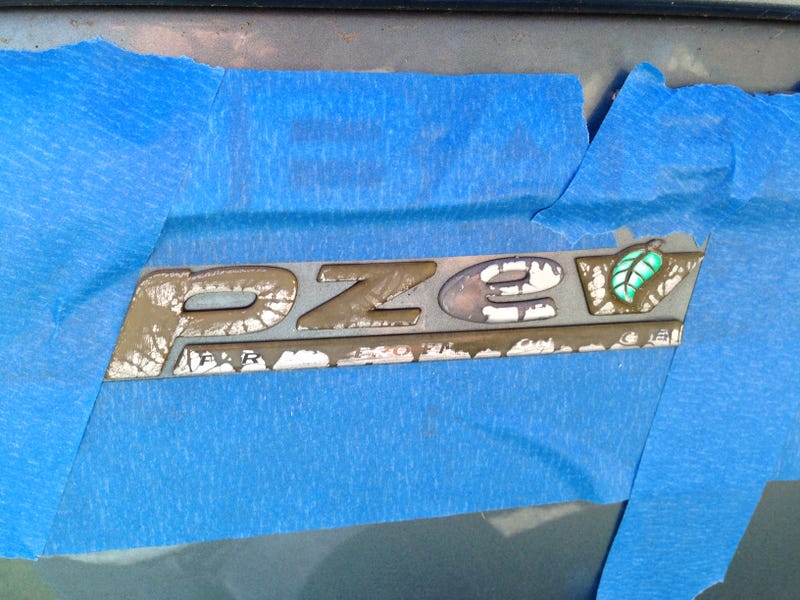 Remember how I said I was going to start working on some projects on the Forester? Well, it has begun. Though the first project was small, it was something that has been bothering me for a long time.
Anyone who owns a 2008+ NA 4 cylinder Subaru (except for the BRZ) is probably familiar with the PZEV (Partial Zero Emissions Vehicle) badge (though some models get a sticker). Those with 2008 and 2009 models are probably also aware of how they tend to discolor and peel, like mine above.

Now, I could have just removed the badge, like many people do. However, this badge bothers, annoys, and generally pisses-off my Prius owning friend... so the badge stayed, and my amusement continues...
With that settled, it was time for prep and paint. A bit of sanding, a coat of primer, and finally, a coat of Testors metallic silver. Both masterfully applied with a brush and my ever steady hands... um, scratch that, incredibly shaky hands, for that, uh, brushed look. The final result...

It's not perfect, but it's a vast improvement. I should have done this ages ago. I should probably add some form of a clear coat at some point. Maybe the finish will stay on for more than two years.

Also, I vacuumed my floors for the first time in ~2 years...

I also shampooed the floor mats for the first time ever.

There are a few other small projects in the works, both planned and things I'm looking into / considering. It may not seem like much at the moment, but honestly (and occasionally to my disappointment), the Forester doesn't need that much attention. However, the first of the bigger, mechanical projects should commence sometime in May.