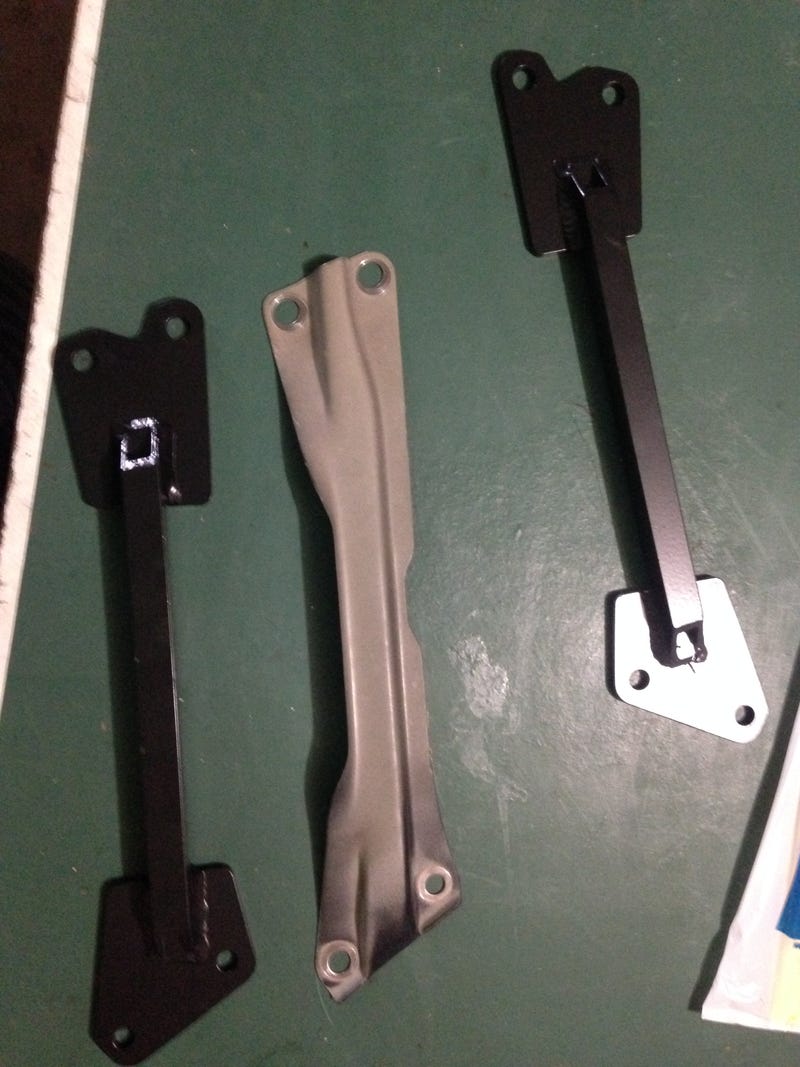 Installed these Fender braces yesterday and got to take them on a test drive today. Install was pretty easy short of my knack for stripping off bolt heads and spending half the day drilling them out, breaking bits and swearing all over the place.
Unfortunately the road I wanted to take wasn't open yet, but I brought my fishing pole for just that reason and stopped by a reservoir to cast the line a few times. Got lucky and caught a 12" trout at noon my first day out after winter! I could immediately tell the difference on the first turn with a bit of speed. Much less slop! It even got rid of this one weird inconsistent vibration I was getting through the steering wheel and got rid of a tiny bit of wandering at highway speeds. Although that part could be because I was on a better road and not as windy as it has been.
Car is getting to the point of where I want it, only have some Kartboy botox bolts to install and tighten down the rear subframe once I get a 12mm x 1.25 tap to chase the threads out. Then of course some swaybars/bushings/mounts and figure out what I want to do with suspension.
Oh yeah, and that whole thing with getting the A/C fixed or deleting it and sweating my balls off for a 20 pound weight reduction.
Just because I wrote all this down yesterday, here is my list of modifications to the car:
Engine:

Vishnu Lightweight crank pulley
Walbro 255lph fuel pump
Grimmspeed 3 port EBCS
Grimmspeed Air/oil separator
Perrin Turbo inlet
Brentuned 250tq/245whp
Catless Uppipe
Perrin Turbo back exhaust
Mishimoto intercooler hoses
Paranoid fabrications grounding kit
"Big three" wiring kit
Driveline:
Group N Motor Mounts
Group N Trans Mount
Super Pro Steering Rack Bushings
STi solid Steering linkage
TIC Rear Diff Mount Bushings
TIC Tranny Crossmember bushings
Kartboy front shifter stay bushing
Perrin Pitch Stop Mount
Kartboy Rear Shifter Stay Bushing
Kartboy Rear Subframe outrigger bushings
STi short shifter
Kartboy Rear Subframe bolts - not installed
TIC Giuyngmyo fender cowl braces
Exterior:
Rally armor mud flaps
Suspension:
To come…