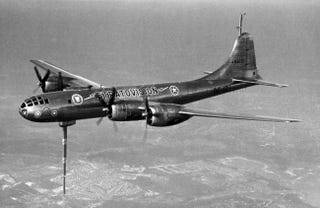 In today's world of global telecommunications and the Internet, we tend to forget that in the early days of radio and TV, before the advent of telecommunications satellites that could sit in space and bounce signals back down to distant points on the globe, TV and radio broadcasts ended at the horizon as seen from the top of the broadcast tower. That's why broadcast masts are so tall. Following WWII, broadcasters wanted a way to extend their signal to a larger area, and to do that, they needed to get their antenna as high as possible. But they couldn't build a tower 25,000 feet tall (the tallest radio masts today reach about 2,000 feet). The solution was Stratovision.

---
Westinghouse Stratovision advertisement, 1945
---
The concept, developed by Westinghouse engineers, was to broadcast a signal from the ground to an aircraft orbiting high in the sky, then have that aircraft relay the signal to receivers on the ground hundreds of miles away. In 1944, Westinghouse teamed with the Glenn L. Martin Company, and together they performed early experiments using a Lockheed PV-2 Harpoon. Orbiting at 25,000 feet, signals originating in Baltimore, Maryland were received as far away as Norfolk, Virginia and Boston, Massachusetts. Following these successful tests, Westinghouse and Martin moved on to a larger aircraft. Martin modified a Boeing B-29B Superfortress (a variant that had been built with no defensive armament) by adding an 8-foot tall antenna on the tail to receive the signal from the ground and a 28-foot retractable boom antenna under the fuselage to relay the signal back to earth. Westinghouse filled the stripped-down Superfortress with radio and TV transmission equipment. Stratovision was ready for prime time.

---
Westinghouse and Glenn L. Martin employees pose in front of the B-29 Superfortress used in Stratovision tests
---
On June 23, 1948, while orbiting at an altitude of 25,000 feet over the city of Pittsburgh, Pennsylvania, Stratovision went live with a relayed broadcast of the Republican National Convention in Philadelphia that originated from WMAR in Baltimore. The television broadcast was received in a 525-mile diameter area that included nine states, and the radio signal was picked up as far away as Zanesville, Ohio, where receivers had been set up to demonstrate to the press that Stratovision could bring radio and TV into rural areas. Based on that experiment, Westinghouse engineers calculated that just eight aircraft, relaying the original signal from one aircraft to the next, could complete a transcontinental network. With fourteen planes, they could reach 78% of the American public.

---
---
While Stratovision proved to be a success, underground coaxial cable networks connecting the East Coast with the Midwest were in place by 1949, rendering the Stratovision system obsolete, and Westinghouse dropped the project in 1950. But the idea of using aircraft to relay radio and TV signals did not end with the demise of Stratovision. In the 1960s, a non-profit organization used a modified Douglas DC-6 to rebroadcast educational programming to the Midwest, and the US government beamed television and radio programs into Vietnam during the Vietnam War. And, even more recently, Lockheed EC-130 Commando Solo aircraft were used to broadcast propaganda into Iraq during the Iraq War.
---
If you enjoy these Aviation History posts, please let me know in the comments. And if you missed any of the past articles, you can find them all at Planelopnik History.

---
Top photo via Lockheed Code One Magazine