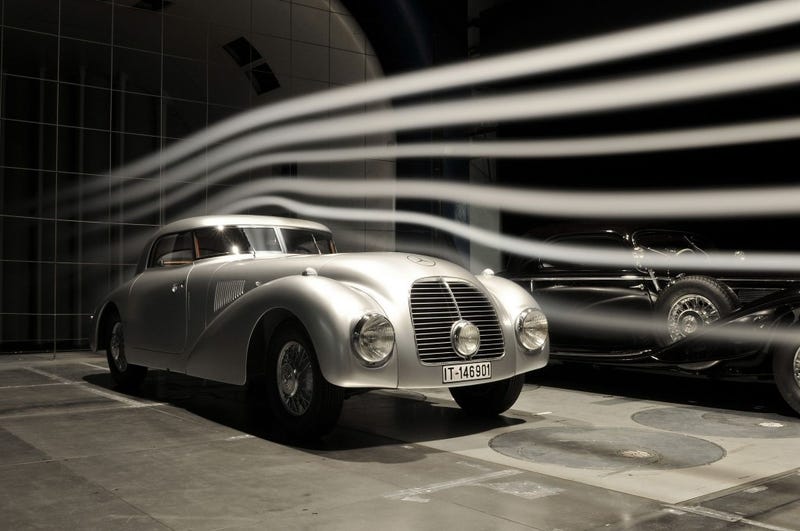 Mercedes-Benz Classic, the department that deals with preserving the brands history and crushing 300 SL replicas, brought back another historic and if you ask me rather beautiful, elegant vehicle: the 540 K Stromlinienwagen.
During the 30s, streamline vehicles were the thing to do. Many German manufacturers made it one of their playing fields. Famously, the two silver arrow divisions of Auto Union (Audi) and Mercedes-Benz battled for top honours in early GP racing and land speed records. Sooner or later, the transition to street cars was made; Porsche built the so called "Berlin-Rom Wagen", a car that reminds me of the 356.
With the higher top speeds caused by reduced drag streamline cars, tires met new, higher requirements. To test the new products, tire manufacturers needed faster vehicles. Dunlop therefore ordered a custom bodied 540 K, and Mercedes went on to work: modifications that set it apart are obviously the body, but also longer gearing and underbody paneling. The car was finally delivered in June 1938.
For years, the remains of hit have been sitting in the Daimler archive. Starting in 2011, a restoration was started to bring it back to former glory. And when I say restoration, I mean a complete reconstruction. All that was left of the original car was the frame and a rear axle. The body was replicated in the same way it was built in 1938, by using a wooden sub frame where the body was mounted and then modelled to perfection according to the original construction drawings. In total, over 4800 man hours have been put into the body alone.
As you can see, the windshield is a round shape. The interior was adapted and outfitted with a one off rounded dash board. The original seating configuration - two front seats plus two folding seats in the back - made a comeback too, upholstered in the same grey leather as nearly 80 years ago.
After 3 years of work, the car is now complete and documents another piece of Mercedes-Benz history. It kinda looks younger than I thought it is, more early 50s than late 30s, and the drag coefficient of 0.36 shows that despite not knowing an awful lot about aerodynamics, the engineers succeed in making a drag efficient body.