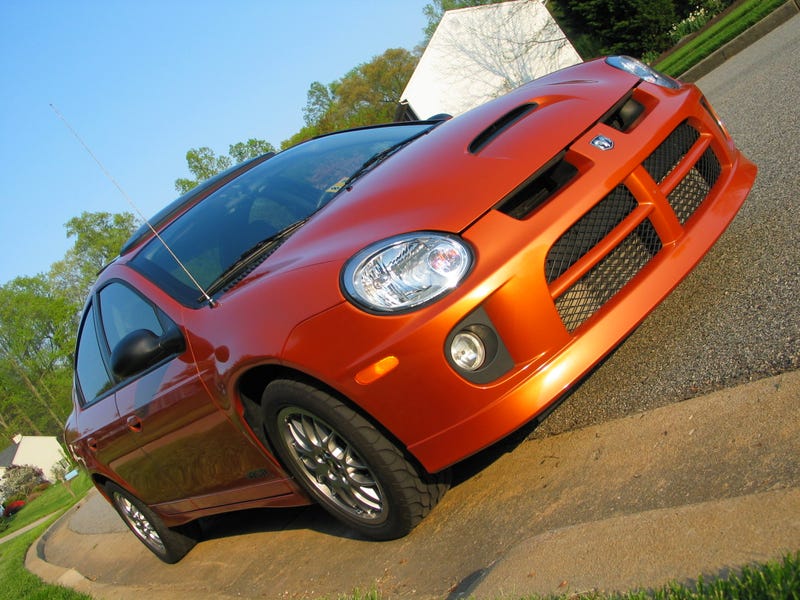 As part of my weekend wrench twirling detail, I freshened the upper strut mounts on my SRT-4 ACR as they were shot. In the process, I noticed that the tops of the strut rods in the rear were rusted very badly. As in - OMG, how have these not broken or punched through the upper strut mounts yet - rusted. Good thing that the rear axle weight of my car is only about 1000 lbs, and I treat my car nicely...
I inquired with the dealer for replacements. $660 for the LR and $540 for the RR. That's right. $1200 for _two_ rear struts - not ten. Oh, and if I wanted the front struts ? They are a bargain at $374 a piece from ma MOPAR. Mind you, as their velvety white color indicates, these are not any old run-of-the mill Dodge Neon strut, but TWELVE HUNNERT DOLLAH BILLZ, Y'ALL ?
PHUCK all of that noise...
So, while I was picking my freshly shattered jaw off of the ground at the parts counter, the guy mumbled stuff about 'special parts', 'out of production', 'not in MOPAR stock', 'vintage parts', 'just get the value line parts', etceteras... My ears perked up at their source: vintageparts.com ... Home I went. Onto the interwebz I logged. You can find lots of good info "on the line", but very little about SRT-4 ACR struts for sale. With only 1174 SRT-4 ACR's produced, there isn't much of a market for them.
After creating an account, I could see that Vintage Parts had the stuts for a considerable amount less than the dealer, but I was not sure they would sell to a (non-retail) private party... I took my chances. There were less than 10 of each of these parts left in their inventory. I made the order Saturday night (because that's when car-nerds surf the interwebz for parts instead of having a social life) and prayed to no deity in particular. On Monday and Tuesday, I was checking the order status and it changed from submitted to pending. "CRAP !," I thought. They aren't going to sell them to me.. Then on Tuesday night, it happened.
The order went from pending to SHIPPED !
I took delivery of four shiny struts this evening. You would think that I won the lottery or something. We've all been there - acting like a dog on a lead that is just too short for us to reach the curb where the FedEx and UPS trucks stop... You could have played a tune on my lead when I heard the FedEx panel van pull around the neighborhood. "THERE HERE ! THERE HERE !" I proclaimed to myself because no one else gives a shit about a car-nerd getting a delivery of parts.
These are Tokico Illumina 5-way adjustable struts that were tuned by the hi-po car-nerds at SRT specifically for the SRT-4 ACR application. Due to an agreement with MOPAR, Tokico cannot sell struts of this 'flavor' (read: this valve code) of Illumina struts outside of their MOPAR agreement. Tokico sells Illumina struts for the base neon, but the damping is not adequate, and certainly not appropriate for the SRT-4 with stiffer springs and the increased front axle weight with the heavier 2.4L Turbo engine and T850 trans up front. The Illuminas that they sell for the 'base' SRT-4 have the wrong strut rod and damper tube length, and spring perch location. If you don't know what I am talking about, just know it's important, mmmkay ? I had considered aftermarket coilover kits, but all of my friends' experiences with them have been marginal at best, and anything half-decent would cost about $1500-$2000. Koni sells a Sport insert, but that would mean cutting up the struts and bolting in the koni insert which comes with it's own set of problems - not to mention Koni doesn't sell an SRT-4 ACR specific set of inserts. I would have to get the base neon inserts (to maintain proper strut rod and damper tube length for jounce/rebound travel) and they might not have enough damping adjustment range to get the car setup right.
SO.... Long story made longerer, I have some shiny new (and expensive) struts for the SRT-4 ACR to put on this wknd... YAY !
If you are still reading this, bless your soul... Thanks for reading !