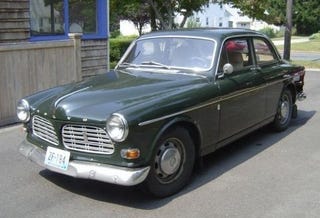 Thanks for convincing me not to buy that A4 Avant, folks, because I think I've got something better lined up.
http://oppositelock.kinja.com/convince-me-no…
In my continuing search for something to wrench on this summer, I may have found the perfect first car in the back lot of my local Volvo mechanic. He's got a running, driving, rust-free 122S with a stick and he said he'd take $1200 for it. I already know my way around Volvos a bit because I've helped fix some things on my dad's 760 Turbo and my neighbor's 240 DL in the past. Plus, seriously, look at this engine bay (not the car I looked at today, but same year). Scandinavian simplicity at its best!
So, I'm pretty sure I'm going to pull the trigger on this one. Cute little car, dead simple mechanically, and will probably last forever. Going back Monday to take it in for a prepurchase inspection. Fingers crossed, and happy Fourth to all of my fellow Yanks!