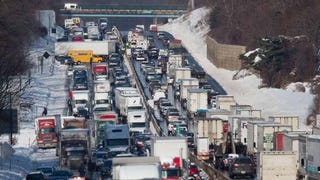 Up to an estimated 100 cars and trucks piled up on the eastbound PA turnpike that runs across the northern boundary of Philadelphia early this morning, resulting in at least 24 hurt, some critical, closing down the road for hours and leaving many commuters stranded, waiting for the road to be cleared. This particular stretch runs SE, heading directly into the bright rising sun. There had been reports of possible black ice as the temperature hovered around the freezing mark and the road was clear but wet.
Living up to it's "City Of Brotherly Love" label, the stranded motorists found interesting ways to deal with the waiting.
From Philly.com
"...As the morning wore on, the unharmed but stranded motorists began bonding.
One woman wandered to cars with doughnuts and coffee, and others broke out bananas, orange juice and other fruit. A man showed up on the side of the road with a case of water.
"Does anyone want water?" he hollered.
Others climbed an embankment to a bridge and returned with pizza and Subway sandwiches.
"It reminds me of an Eagles tailgate without the fun," said Nora Weigold, 47, of Willow Grove.
The Red Cross dispatched teams to the site, including trucks carring Wawa coffee.
Two men from Willow Grove, Rob Hessman, 35, and Josh Johnson, 26, noticed a beer truck stuck in the backup and joked with the driver that this would be a perfect time to sample his stock.
The driver laughed, too.
But he did not comply..."
http://www.nbcphiladelphia.com/video/#!/home/…

http://abclocal.go.com/wpvi/story?sec…