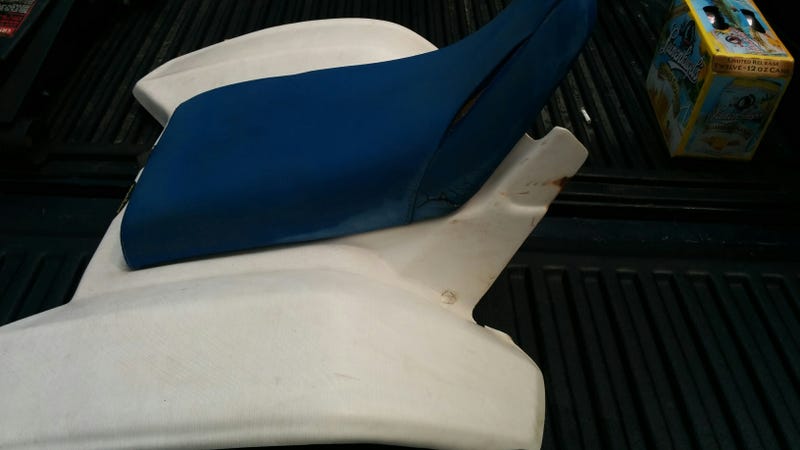 So all of my Craigslisters flaked on me yesterday. Understandable being Mom's day and all. My original plan was to start tackling my 350x project but after pulling the engine I found multiple cracks in the frame. Enough to say that the frame is toast time to find a better one. So it was on to the 200X it's nasty plastics and grungy seat.
First step is to flip it and undo the latch and bolts to separate the seat from the fender.
Now it's time to rip off the old cover and then start pulling the 900,000 staples that were holding it on.
Not fun at all.
What you're left with is a fairly nasty looking piece of foam on a plastic tray. Unfortunately I had to re-use this with it's imperfections as new foam is impossible to find for a seat they only used for two years.
The new Marine grade Vinyl was sitting on the hood of the truck getting nice and loose. One yard was enough to do the job twice. Which is what I did. Because I'm a dummy.
Spray the foam with Super 77 or the like and drape the vinyl over like so.
Now you can start stretching to fit and stapling as you go. A heat gun works wonders at this point to get the wrinkles out as you fit the Vinyl to shapes it really doesn't like.
You should end up with something like this! On your second attempt.
Mount the seat to the new plastics.
Install the re-pop stickers you overpaid for and job done!
Now, for that gas tank..
Hopefully next week..