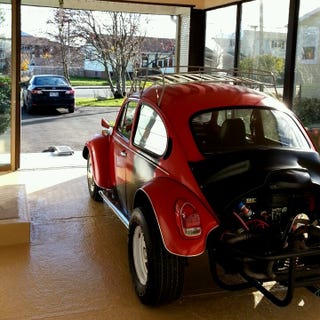 I was somewhat recently shown a house that was owned by two kindly old ladies. They had kept the lawn and interior in immaculate condition. However, being a ridiculous individual, the excellent upkeep wasn't what really caught my attention. This house had a bizarre carport-turned-sunroom, encased in what appeared to be glass from a strip mall.
Naturally, I asked "Does that glass open?"
The realtor replied "Yep, it slides open. The front is a giant door."
I then proclaimed "I will put a car in this!"
And I did, and it's awesome.
The End.