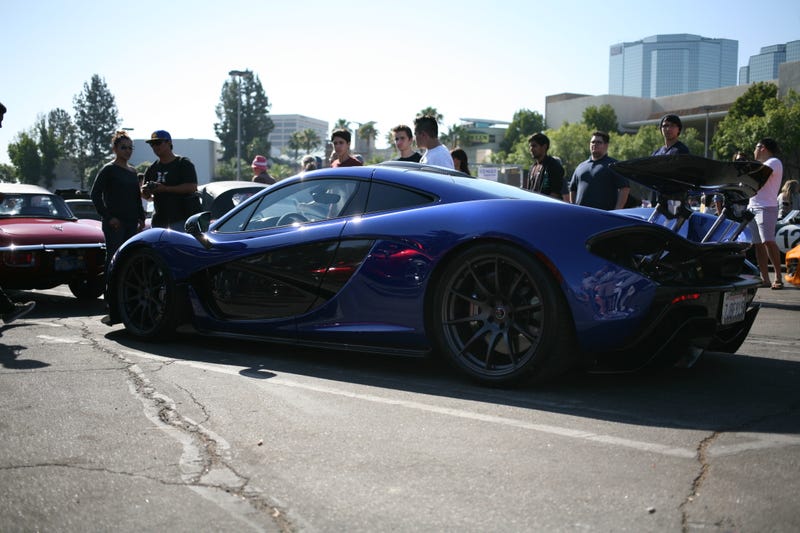 Supercar Sunday this morning was quite a success, though extremely crowded.
The P1, as a fellow Opponaut put it, is surprisingly small. A little long though.
I really hope that plate is accurate. And don't doubt it, based off of the sound.
This Rothram's rally Porsche replica was freshly painted and had 55 miles on the odo. Glorious, but it would be better with more rock chips.
Speed holes. They're not just for Hondas.
The S14 is a really pretty engine.
The car it's in isn't too bad either.
This poor, poor Porsche.
Such a classy coupe.
This engine bay was incredibly well kept
A buddy brought his Lotus Carlton, legal under Show and Display
I love the small extra windshield.
The interior isn't half bad either.
I can haz?
Carrera GT #901, I believe
Something pretty cool was behind it too
Fellow Opponaut there in front of the CGT
It has plates. He drove it home from there too.
Size matters?
Centerlock wheels are a glorious invention
Stacks on stacks of velocity stacks.
One weird antenna......
.....on a Miura.
Want this 92 NSX? That'll be $50k. It has a massive supercharger outback too.
Too many Type R decals everywhere for my taste.
A buddy brought out his SW20 MR2. He had a built white Supra TT and white SW20 with around 430WHP before this.
My buddy Marc brought his 205 GTI and parked next to a faux RS200
Bye bye 918!
Two very different generations of M3
911 Targa with Fiske wheels and 930 flares. Yes.
850CSi with Alpina wheels
An Evo with carbon fiber doors, fenders a wing and hood
Forgot to take a picture of the exterior of this 500E, but it was just as ridiculously clean as the interior. No surprise the owner was a detailer.
I'll be getting a ride in the Carlton at some point in the future....