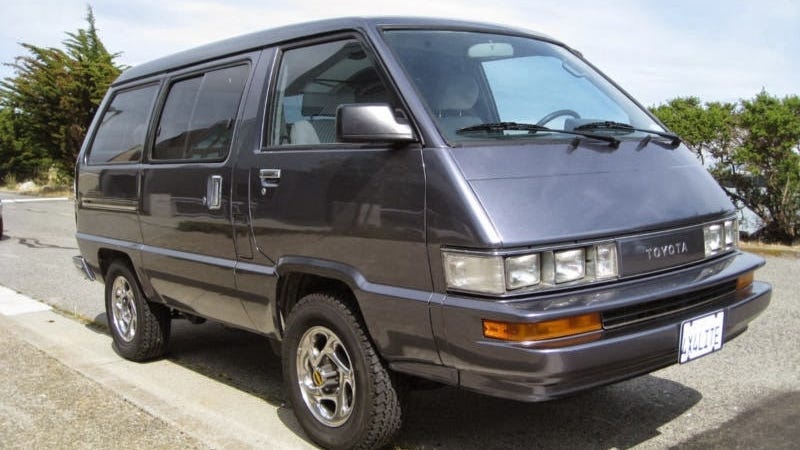 When it's time to bug out (for a weekend trip or lifetime of fleeing brain eaters) the smart money isn't on some gas guzzling 6-ton body-on-frame beast. The astute buyer will get something he can park on a street for weeks at a time without getting attention from your nosy neighbors or the National Guard.
When the time comes and the undead are limping through your neighborhood you won't need to drive to your storage facility, charge a bunch of batteries or prime some antiquated diesel fuel system - nope, you'll simply turn the key on one of the worlds most reliable vehicles.
Find this 1987 Toyota Van 4X4 Conversion for sale in Richmond, CA currently bidding on ebay for $5,500 reserve-not-met with 5 days to go. Originally posted by Hammerheadfistpunch here.
What was called the MasterAce in Japan, the SpaceCruiser in Europe and the Tarango in Australia was simply called the Toyota Van for the US market. In 1987 a 4X4 version was introduced that featured a low-range transfer case on the 5-speed equipped version for the ultimate in car-based 4X4 usability. The simple and reliable 4Y-E overhead valve 2.2 liter inline-4 puts out 101 horsepower and 133 ft-lbs of torque.
The inside of this Van has been converted from a simple people carrier to a mobile hotel room, complete with refrigerator, sink, propane stove, folding bed and (most importantly) a small portable loo. The small 4-cylinder engine up front and 5-speed gearbox should be good on gas but still keep up with traffic.
This Van packs a considerable amount of camping use into a small package and everything has been built "custom" by the seller who now is selling due to a medical condition. His loss is your gain because the cost to build this would easily eclipse the current bidding price.

See a better bug sized bug-out car? email us here: tips@dailyturismo.com
Originally posted as 5k: Micro Camper: 1987 Toyota Van 4X4 Conversion on Daily Turismo.
Image credits: ebay.