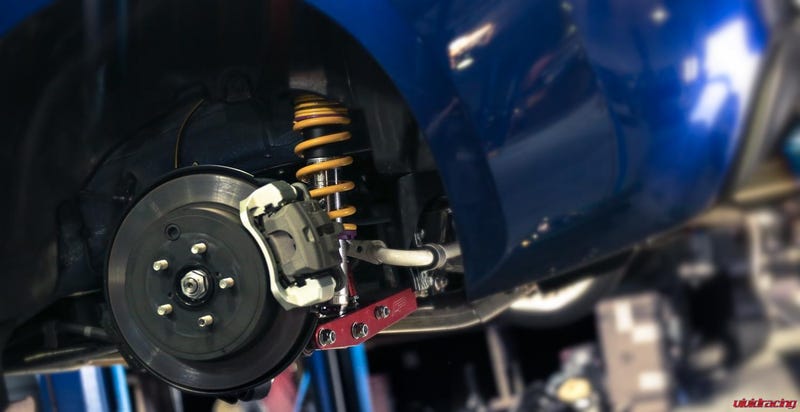 A friend and I installed some lowering springs this weekend onto the BRZ. Overall I'm quite happy with it. The ride comfort is still there and the car's wheel gap is smaller now. I went with RCE Yellow springs which are pretty well regarded by the forums with a decent amount of users reporting success in auto-x and track using them with the stock shocks. They're also meant to be daily driver friendly.

The ride comfort is slightly different. I wouldn't say it's worse or better than stock. It just feels different. You can feel more bumps but due to the fact that the shocks are already preloaded when you're not moving. I'm not an expert but my understanding is that means the suspension is already partially damped as you're driving along. This decreases the expected life of the shocks but it does make slower speeds more tolerable. Overall not bad in terms of comfort. Handling-wise the car feels more planted under braking and in corners. There is a slight bit of leaning in banked corners but it's not that bad. Again, I'm not an expert and this is on the street so I'm not the best judge of this.
I'd say I'm really impressed with these considering you always hear people on forum repeating, "coilovers are better and more adjustable."
Now here's where I'll contradict myself. I do still wish I had gone with coilovers. And I don't mean the cheap BC racing/Tein/Megan racing stuff. I mean I wish I had waited a little while longer and gotten the KW V3 or RCE Tarmac 2s. You're probably now wondering why even though I sound happy with the springs. Well here's why.
I would like the adjustability. Yes, most people who get those two just for looks will set it and forget it. I just enjoy learning about settings and how rebound and compression settings can change handling. I realize there's a learning curve but I would like to learn and be able to adjust as I get better. Secondly I do like height adjustability. I wish the wheel gap was even less than it is with the springs.
So basically if you've made it this far or you just skipped to this paragraph, the springs are great and work amazingly as they're intended. The only issues with them are not their fault. They are a result of me not buying what I originally wanted to be more budget conscious. Anyone who asks me my opinion about them would certainly get a, "they're excellent and you should get them if you want what I described about them"
A picture of the beautiful KW V3s for your time.