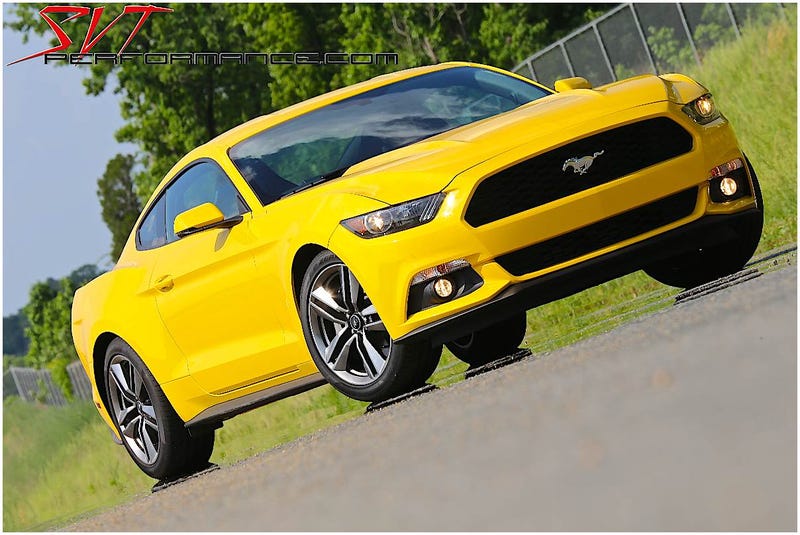 Riding shotgun in a 2015 Ecoboost Mustang

By Steve Turner


Yesterday was big. After being dazzled by enough high-performance exploits to satiate even the most turbocharged gearhead, your editor's day came to a close with the chance to ride in his first 2015 Mustang. Obviously many have sought the opportunity to experience the forthcoming S550 Mustang in action. While I would certainly be happier driving it, the chance to ride in the highly anticipated turbo variant was enough to rev my engine.

In the brief but spirited exercise, I sat in the passenger seat of an automatic, Ecoboost 2.3 Mustang while a Ford driver ran through the car's selectable driving modes—Normal, Sport, and Track—on an autocross. With each click of the selector, the car's performance took a notable move up the performance ladder. Sport mode added a bit more oomph, while using the paddle shifter to really wring out the rpm proved the most satisfying. Coupled with the matched-rev downshifting in this mode, the automatic option looks to offer an even more legitimate performance alternative for driving enthusiasts that don't want a manual.

Regarding the engine performance, power seemed sufficient, but not overwhelming. However, I admit to being jaded by the power available from modified V-8s. For most people, the turbo 2.3 will seem quick. That said, after moving up from Fiesta and Focus STs earlier in the day, the EB 2.3 did seem somewhat burdened by the larger Mustang. We'll see how it plays out in the final car, as these were clearly pre-production versions.

The IRS-equipped S550 acquitted itself well in and out of the turns. It maintains a relatively flat attitude, with just a touch of body roll. Though constrained on the tight autocross course, it would seem the Ecoboost Mustang might just offer even more fun on a road course where it could carry more speed. It will certainly do just fine on the street.

Other than the car's performance, it is a quiet, civilized machine. It is, perhaps, too quiet for our growling tastes, but the sound of the exhaust was still under development, so these pre-production cars might not represent the real deal. With any luck, the Ecoboost 'Stang might just have a bit more bark when it finally hits the streets.

There will be plenty to write about the S550 in the coming months, but for now it's good to know that the mid-level Mustang might just live up its potential. I'll let you know for sure when they finally throw me the keys.