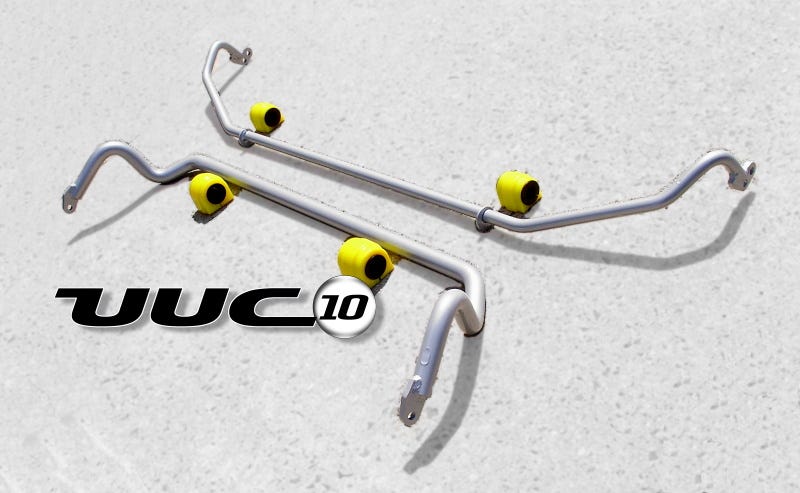 I'm upgrading the suspension on my 335xi, because BMW saddled all of the E92 xDrive cars, even my M Sport, with the very soft base suspension. It's not terrible but I really wanted something more performance-y. It's all going well, except sway bars!
The awd E9x cars have a different front suspension from the rwd cars—the rear suspension is identical—and only UUC Motorwerks makes a front sway bar for the xDrive. UUC also makes street-friendly adjustable front end links, but not rear ones, and Hotchkis makes the only street-friendly rear adjustable end links.
Changing the rear sway bar requires dropping the rear subframe, and I'm also upgrading the rear subframe bushings. That's more than I can handle in my garage, so I made an appointment with my mechanic to do the work on June 1. I ordered all the parts, and everything is either already delivered, or will be delivered, before June 1.
Everything, except the damn UUC sway bars. Last night I checked the order status page and it said they hadn't shipped yet. The product page is saying they're back ordered now, but it didn't say that when I placed the order. I talked to UUC this morning and they're out of front sway bar bushings. It'll be a few weeks. I'm pretty irked about them not having accurate inventory on their site, but whatever.
I talked with the mechanic, and they said rather than do a bunch of suspension dis-assembly twice, it makes the most sense to wait on the project until the sway bars arrive.
Also, somehow Tire Rack shipped my new wheels and tires to me instead of my mechanic. Last night when I got the UPS notification I was kinda annoyed, but now with this sway bar delay, the wheels going to my house is kinda good, because I can put on the wheels and then do the suspension in a few weeks. At least it gives me an opportunity to do a before/after pic of the drop, with the same wheels in the before/after shots.