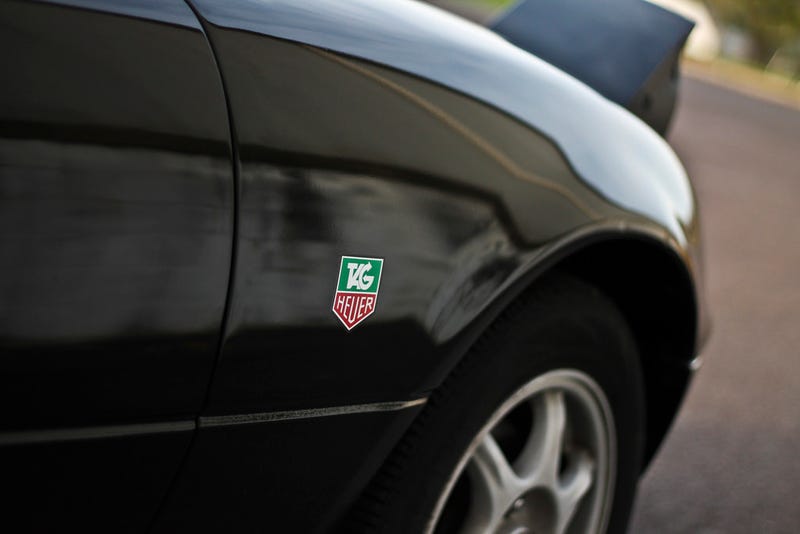 A few weeks back I picked up some TAG Heuer stickers with the idea (I heard it here, so it must be true) that I could maybe squeeze out a couple more horsepower from my '95 Miata before my first autocross.
Now, obviously the horsepower thing didn't quite workout because the Miata is already so perfect that any performance mods you make to it actually work inversely. At least that was my excuse for my best time being bested by a stock VW Passat.
I decided to keep the stickers on because race car, and later adorned them on my second autocross, where they actually seemed to really help! My times were right where they should have been. Some guy in a GT3 on Hoosiers said it was probably the fact that I had brand new tires rather than the eight year-old mis-matching pieces of rock I had on previously, rather than the stickers, that gave me the gains. I thought I knew the truth, but what do you guys think?
Pictured: My mother getting a ride-along with some guy (instructor) named Mark.
Is it a bit poseur and out of place on an NA Miata? The car is 100% stock. I think it gives it just a bit of character, notifies fellow enthusiasts that I am not having a senior having a midlife crisis, and finally, I think they are far more appropriate than the usual "illest", "HELLA", "STANZZZZZ" stickers that usually grace the rolled fenders of too many Miatas with owners that think 37 degrees of negative camber is ideal for optimal street performance.
So, yay or nay for TAG Heuer stickers on an NA?... Would it be better if I did a V8 swap and converted it to a rally car?