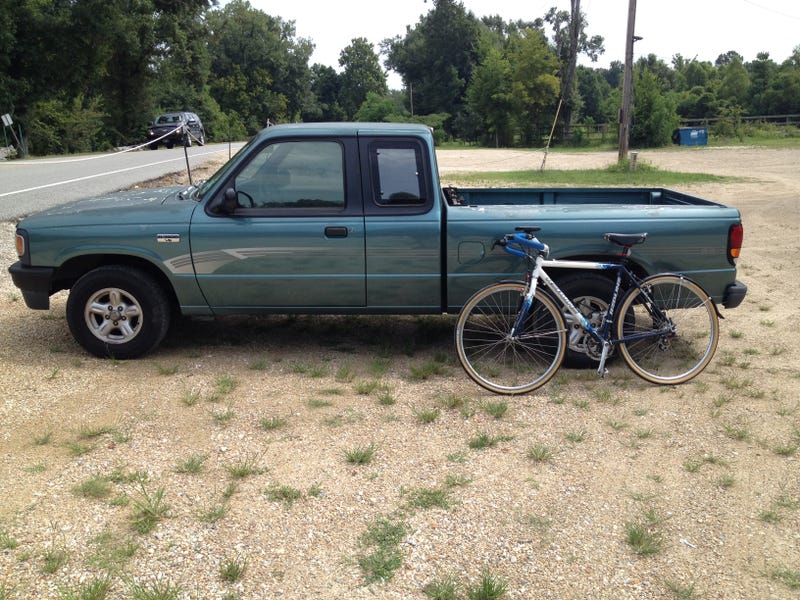 Today is the end of an era. My faithful truck has reached a point where it doesn't make sense to keep it on the road. In the past year, I've driven it about once a month and every time it was for something that could be done with a trailer attached to the back of the Explorer.
This little truck has been with me nearly 20 years. It stuck with me through grad school, getting married, and having two kids. It moved my belongings to six different households in three different states. It's been through three floods, two hurricanes, and a tropical storm which flooded my house. It's carried more wood, dirt, and sand than I could ever count. I've taken it down the highway, through the woods, onto the beach, and into the mountains. In all these years, it's seen its share of mishaps which left me stranded: a broken tie-rod, a couple of worn-out distributors; but it has always come back for more.
Now it has reached a point where it can't pass inspection without some repairs, but we can't justify spending money on repairs when I have something else to drive.
What it needs:
New windshield (the primary reason it can't pass inspection)
New intake ductwork (the old plastic crumbled away and the temporary repair needs to be replaced)
Broken exhaust manifold stud removed from the head and replaced to fix the exhaust leak.
New brake master cylinder
Find & repair the a/c leak (The compressor was leaking around the shaft, so I replaced it last year. Now nobody can find the leak, so I think it is hiding in the evaporator.)
Replace seal around back glass to fix recurring water leak
Fix trim around side window glass
Replace/refresh interior (reupholster seats, new headliner, repair dash crack, replace carpet)
Repair door dings and repaint truck (particularly troublesome since clearcoat is peeling and the decals are under the clearcoat)
Repaint or replace wheels. It has new tires, but the 14" wheels just look too small.
My son is hoping that I'll keep it around so he can learn more about auto repairs and drive it when he is old enough. With 268,000 miles on it, I think the next big expense will be an engine rebuild. Driving the same truck for almost 20 years creates a lot of memories. Maybe we can save it so we can make some more.