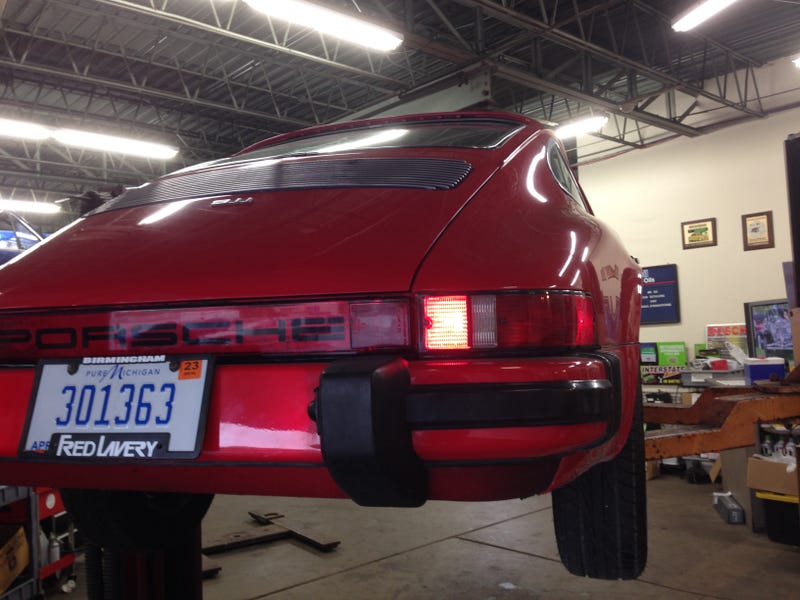 Previously, on Karl and the 911, Karl described driving his dad's 911 for the first time; this time, he recounts the events leading up to and of his first time underneath the car!
It's now been almost a month since that first drive, and each one has been a very fun, exciting and scary learning experience at times. I'll admit that I think this car is perfect for me in just about every way; but the more I drove it, there more something didn't seem right.
I had said that "The 915 trans is very, awkward. It didn't have much feel to it while shifting gears, sometimes I was worried that I'd put it in 4th rather than 2nd. I didn't mind the shift travel but there was no real feel to it overall IMO.", and on one of my regular Porsche forums, Rennlist in this case, I commented on how "...the brakes didn't seem to bite until near the end of the brake peddle's travel.". I had simply written those off as characteristics of the car and went about driving it, but then while cleaning the car up a couple weeks back, something hit me.
There was something wrong with the car! THE ENGINE LID WOULDN'T STAY SHUT!! Trying to be resourceful, I tried working on it myself, to no avail. Yes, this was a problem, but not the actual one that I had remembered; the one that I actually remembered was an unusual Intermittent idling problem. In the winter, when I had warmed the car up to full temp.(In this case, starting it up and letting it run in the garage for 40 minutes) it's idle which was normally around 1100rpm, would randomly jump up to 2100rpm and never go back down, as demonstrated by these clips I shot back in the "Hellstorm Winter of 2013":
(On this clip, I had the hand throttle up/on, which is used to give the car more gas and increase the idle, and the rpms were stuck at 2100rpm and the only way to fix it was to turn the car off.)
(On this clip, the hand throttle is down/off, I gave the car some gas, and as you can see, the idle was stuck increasing and wouldn't go down.)
What was I to do in this situation?!? Luckily, I remembered that I had met a Porsche mechanic at a relatively close-by Porsche/Euro-cars shop, Munks Motors, a couple weeks earlier when he had given me a ride in his very nice 944(which you can briefly see at the end of my video) while I was out on Woodward, so once again I grabbed the keys and made the 25 minute drive to Munks!
But halfway along the drive, I discovered a third problem! It was unusally hot in the car, as if the heater was stuck on high and none of the controls did jack(I'll be honest, I haven't a clue how to use these HVAC Controls...)
When I arrived, I explained the engine lid and heater problem and received an estimate on how much it would be; unfortunately, there were no slots available for my walk-in and as I toured the garage all, of the slots were full so I scheduled to come back the following Wednesday to have the work done. It definitely wasn't a wasted trip because I saw this: HRRRGGG!!
Finally, that Wednesday came this week and as I made the same drive again, I decided to film it with my iPotato 5 for you all to see and it's actually not that bad!
When I arrived, the procedure was rather different than before. This time, I handed the keys over to one of the mechanics so he could take the car for a test drive to see if there was anything else wrong with the car that I didn't know about; and frankly I'm glad he did, because being new to this car, I wasn't and still am not sure how the car is supposed to feel at peak efficiency.
As before I was allowed to walk around the garage and talk with mechanics and touch the cars as if they were my own(which means very very gently like a baby) but I didn't touch any of them; but I did snap pics of all the cars I could see for you all, so here ya go!
(THE THING!!)
(944 and 944 S2)
(VW Scirocco, unmolested)
(A 928)
(There is much "soon" in this pic.)
Finally, my car was pulled into the garage and prepped to be put on the lift, while I observed the very careful prepping, I went over the test drive with the mechanic.
He told me that the car was an good example and in very good condition for it's age, minus the dings, scratches and such. The engine felt great and power was very good(The engine was rebuilt once within the last two decades or so).
Now for the problems; remember when I had said the shifter had very little feel to it, well that was because it was loose! There was a good two inches of movement in each gear because of worn out bushings. To give me an idea of how it was supposed to feel, he told me to sit in this 930 Turbo with RUF wheels......HRRRRGGG!
The shifter felt much better, the throws were solid and confident!
The suspension was worse; with much vibration, alignment, wheel shake, loose and crunching front and rear suspension! :(
And here's the killer, quite literally. There is heavy vibration from braking from highway speeds and efficiency was very low, not to mention that every time I drove it, there was only 4% brake fluid left in the car! :(
For more specific details on the car, I point you to the notes I've got from the invoice on the work:
Yeah, there's actually a lot of stuff that needs to be taken care of...in time, it will get done! :)
Now on to the fun stuff, getting underneath! The car was lifted and I took some pics. It was interesting, I was expecting it to look bad, but it's actually in very good shape! The factory anti-rust coating is still pretty decent:
FLYING 911!!
The side of the engine
Oil residue on the trans from when the oil pump blew last summer...YUCK!
Cobwebs.....and spider stuff......This ain't no Mazda! :P
These might be SSI Heat Exchangers, a very desirable part. :)
The work took about 45-50 minutes, they also checked the tire pressure, refilled the brake fluid to full, checked the battery, oil fluid, fan and AC belts and other basic things. I was able to help out to as per my request from my previous visit and pick up some nice pointers and advice; they've got a very nice and knowledgeable crew there! :)
With all that said and done, I paid for the work, and was later paid back by my dad, and was on my way! Aside from the fact that the car was now full of condensation(AC fixed this) from the pretty intense rain shower/storm going on outside, along with very deep puddles/rivers that the 911 just floated through; it certainly didn't help that I knew now what serious problems the car had either..Whenever it hit a hidden puddle/river, it would slide around a bit or recoil from the sudden impact of a large body of water(lightweight car problems I suppose). It was a great driving experience/nightmare from hell that just really goes to show the amount of skill required to drive these cars back in the day, And I loved it/was fearing for my life on the now 50 minute drive back home.
Luckily, I made it back without a hitch. Now the question is what to repair next! Luckily Father's day is coming up and my mom and I are planning on doing something with the car for him, I'm definitely suggesting a full inspection of every part/piece and replacing the pads and looking at the suspension first!
Hope you all enjoyed another story from my adventures! :)