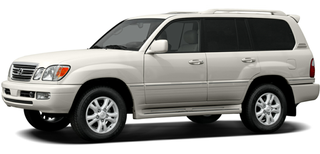 *EDIT* I also feel like I should add that the previous owner also has a pristine LeCar that he restored, as well as many other "micro-cars" that he is looking to start a museum with. Clearly these are my people. I'll be doing a fun post with my new dressed-up Land Crusher soon!
I have an opportunity to purchase a 2004 LX470 with 146,000 miles. It is pearl white and in excellent condition, I can't find anything wrong with it (though I'm in the "love is blind" stage right now for sure). It is a one-owner vehicle that was driven by a local business owner's wife. She dearly loved it and hated to part with it. It was serviced at the nearest Lexus dealership, no expense spared. They would have loved to replace it with a new one, but just couldn't justify 90+ grand that they are going for now. Instead they spent a paltry 73 grand on a plebeian Yukon XL.
My plan of course is to hoard it. It would be an extra car, maybe a winter driver for my wife when her FIATA comes in. I figure it's a rare opportunity to have a vehicle that I could enjoy for a few years and then probably still sell it for more than I paid for it.
I can buy it for what I feel is a Nice Price (tm), although I welcome from you all your opinions on what that should be. Plus I just don't know a whole lot about them. What should I look out for? Inform me, oppo.
THANKS