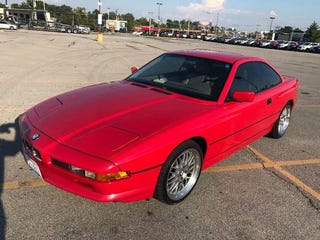 '91 850i, "minor transmission issues," also "not drivable" for $2,700. In BMW's iconic "Red Flag" paint color. And yet I want it so badly. Is that weird?
I know parts alone to get it drivable again probably cost more than the ask price.
I know it'd take hundreds of hours of YouTube mechanic video watching before I could even turn a wrench on it.
I know it's got a V12, from Germany, with TWO ECUs.
I know it was a 6-figure car in 1991 and it's now $2,700 for a reason.
And yet I know I need this ridiculous car.
Talk me out of it, Oppo. Or talk me into it. Your choice...