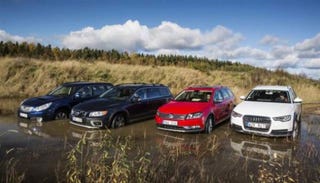 In the United States, wagons went from being the vehicle of choice for family in the 60/70s, to being a dying breed in the 1990s. A one-two blow knocked them on their hatched-asses, first with minivans in the 1980s then with SUVs in the 1990s. Automakers have tried follow the success of SUVs by raising and rugged-izing their wagons. What resulted was a weird category of mutant wagons, here's the best and worst of them.
Honda Crosstour - The Crosstour will go down in history as one of the famously ugly cars. It's awkward big-butt hunchback hatch coupled with it's oversized Accord front end left most car fans asking "why can't we just get a regular Accord wagon?"
Toyota Venza - The Venza served very little purpose in Toyota's line up. It was a car for people who wanted a wagon yet didn't want a wagon and people who wanted an SUV but didn't want an SUV.
Ford Freestyle/Taurus X - The Freestyle tried to continue the legacy of the wagon after the Taurus wagon disappeared, yet make it more attractive to mid-2000s car buyers by making it SUV-ish. The car just kinda hung around Ford's line up, went through that weird period where they changed the 500 to the Taurus, and then went away.
Chrysler Pacifica - The Pacifica burst onto the seen in 2003 found very modest success, and the faded to obscurity.
VW Passat Alltrack - VW wanted to join it's big brother Audi in the tallish awd wagon field, don't really know or care too much about this one.
Subaru Forester - The Forester started out as a funky off-beat wagon that could do just about anything. Over the years the car has morphed to better fit in with the small CUV crowd, thus killing much of it's specialness.
Subaru Outback - The Legacy Outback has been around a while now. Some generations look good some don't. Some came with turbo fours, flat sixes, and manual transmissions. Sadly today the outback is a blocky mess that's stuck with a four cylinder and a CVT.
Audi A6 and A4 Allroad - The original Allroad was a sharp luxury Swiss Army Knife. It's a great all in one kind of car that would be higher if it didn't have a bit of a bad reputation in the reliability department.
Volvo XC70 - The XC70 was the perfect segway between the traditional soccer-mom Volvo wagon and soccer-mom SUV world. High on the list thanks to handsome looks and a very Jalop list of powertrains.
AMC Eagle - The Eagle is the granddaddy of this segment, and as such was year ahead of it's time. The fact that you can get an inline six (a diesel was even available), a manual, four wheel drive (with the first IFS in a 4wd American vehicle) in an American wagon is reason to celebrate. Those pros also help mask the fact that it wasn't an especially good car - coming from someone who owned one.
Mercedes R Class - The R is at the top of the list almost entirely because of it's R63 AMG model which came with a 6.2 liter V8 that makes 500hp going to the rear wheels.
Most of these cars have come and went. The exceptions, Subaru and Volvo have made this category their little niche, and Audi/VW continues to actively pursue it. Honda mysteriously soldiers on with their Crosstour against better judgement. Absent from this list are tall hatchbacks (Subaru XV, VW CrossGolf). I debated putting the Ford Flex on the list and ultimately decided against it.