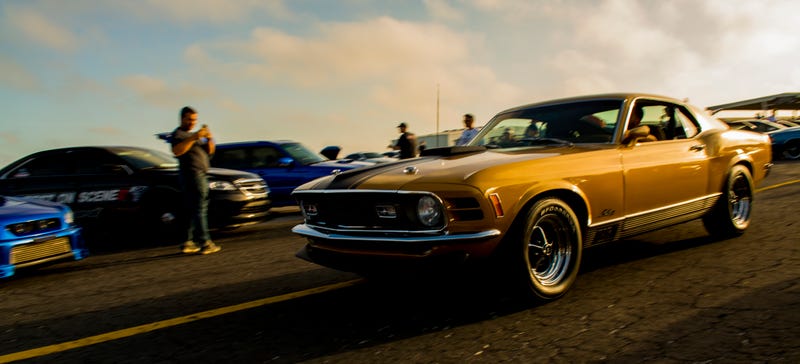 Saturday's Car And Coffee in Tampa was spectacular. Hosted by duPont Registry, their C&C usual takes place in St. Petersburg, but a handful of times a year, they hold the event at a special location. This month's was at the Peter O. Knight Airport, on Tampa's Davis Island. Things were scheduled to get started at 7:00am. I planned a dawn patrol mission to get some sunrise-illuminated car pictures. Upon arriving, I was greeted with a mile-long traffic jam of show cars and spectators trying to get in the gates. I was told by a duPont person (who's car was one of my favorites of the day) that the turnout far exceeded expectations.
This stitched together panorama didn't come out perfect, but if you enlarge it, you'll have a good idea of the scale of the event.
As you can see, the weather perfect, the turnout was massive, and there were cars as far as the eyes could see. And as you'll see below, my dawn patrol mission did pay off (it's worth the trip through all the pics, it really is). While there were lots of very pretty Lambos, Ferraris Corvettes, BMWs, and all sorts of other new-ish, expensive, fast cars, I wasn't there for them. I see these cars all the time. I was here for the unique, weird, and special cars that you don't see all that often. You brought an Aventador? That's nice, so did three other people. If you need me, I'll be over at the UTE.

That's not a UTE! Or is it? I was told that the owner of this UTEicorn once had a Pontiac G8, but it had an oopsie and was totaled. He took what was left, ordered a bunch real UTE bits and ended up with this. Is it a real UTE? No, but yes.
At first, I wasn't a fan of this Porsche. But as I spent some time with it, I quickly fell in love. It's completely ridiculous, but works.
Ok, now we are getting close to the money shot. This Ghia is just lovely. It's copper paint just accentuates it's curves. It looks so damn sexy and fast just sitting still. And fast it is. In the back sits an engine from an Audi A4, the 1.8 T (I think). It's owner said that at last check, before the current tune, it was putting out 240bhp. That is more than enough for this little beauty. I can only imagine that one would be all smiles driving this around.
And finally, my shot of the day. Dawn patrol paid huge dividends. As I was walking in, I saw the Ghia and that it would be perfectly positioned for the sunrise. I took several, but this was the best shot, with the sun just breaking the horizon behind the car. I couldn't be happier with this picture.
And one bonus pic, a triple selfie of me reflected in the Figaro.