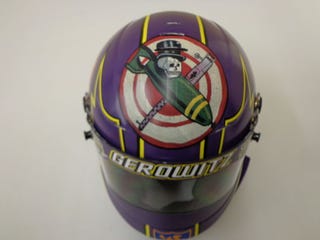 (Seems some get bend out of shape about 1940s bomber girls. NSFW WWII pinup art follows.)
You know the ritual. Flip on that 4K high-def flat screen TV at 2am or mid-afternoon (depending on your motorsport poison of choice). Grab that beer and handful of organic superfood avocado laced taro chips…and…BOOGITY BOOGITY BOOGITY LETS GO RACING BOYS!!!
All the driver pre-race interviews. Fantastic helmets in hand. Each customized for that driver. But what does it take to look as cool as one of those drivers? Our friends at Bolted Spine Designs out of Oklahoma will help us find out.

(Full Disclosure: I used my own hard-earned cash money, shipped my brand-new helmet over, and got back a great looking piece of art to rock out the 2018 season with! I was not compensated by Bolted Spine for this article - aside from my helmet work that I paid for. Pricing starts at $450.)
Before we start, if I may…**gets on soap box**…ahem, ladies and gentlemen. So, you are into motorsports – track days, wheel-to-wheel, time trials, autocross, just lapping afternoons? Before you go out and spend a dime on adding that baller exhaust system, super trick turbocharger, or seriously sweet Fast and Furious inspired sticker pack. Spend that money on a good helmet! How do you think you were able to afford the luxury of a track day? What are those 33 years of student loans payments for? Your brain! If you are going to do *anything* as you enjoy this sport – start with your head. 2015 saw an update to the Snell SA system. And yes, I know that many organizations will allow helmets back to SA05, stop and ask yourself: if there is a landscaping event or you just really wanted to see that Armco paint just a little closer – you want to be able to run another day, right? Cars can be fixed or replaced – we cannot! Get a good helmet. Thank you.**gets off soap box**
New for my 2018, I picked up a Black Armor Composite Circuit helmet with radio communications built right into it. For the racing that I do, radio is a must. And it works with my side-by-side comm system for when I am coaching – bonus! But she came in a baron white wrapper. Not sexy nor presents well for sponsors and fans alike.

So how do racing helmet liveries get created? Well there is the old school way – paint or the newer way – vinyl wrapping. The latter sounds easy; however, it's far from it. A good wrap takes some very skilled hands, artistic eye to visualize how a flat print will lay on a curved surface, and a healthy dose of patience.
Rick Reavis from Bolted Spine Designs will explain:

"Wrapping a helmet definitely takes some patience, endurance, mental strength and straight out shear determination. I'm always pushing myself to the next level. I like to create things that will challenge my own ability and skill. It is definitely a tedious job but when I'm done, it's not just a helmet wrap to me but a work of art. Each and every helmet has it' s own custom make up that makes the helmet owner proud to wear because it represents them."
Working with Rick and his wife Lori, it starts with a design ideation phase. They can do mild to wild. In my case, I have always raced under the banner of my grandfathers' B-24 Liberator bomber girl – the Queen of Hearts. She completed over 50 missions in World War II in the 449th Bomber Group (Flying Horsemen) - 716th Squadron and has overseen my years in motorsports.
Through email and a few phone conversations we hashed through what my vision was for this helmet. Sebastien Ogiers Red Bull Racing F1 test helmet was part of my inspiration and my racing suit has purple accents. Hey, what can I say, I like to stand out.

Fun fact – the skull/bomb/machine gun image is an actual scan of a WWII era patch that would have been on my grandfathers (and all of his squadron mates) bomber jackets. I was able to find one and she now hangs next to the original Queen of Hearts artwork in my home.
After the design is approved it gets mapped out to a high-end vinyl printer and printed off in sections for assembly. This is where Rick's craftsmanship comes in.
Carefully heating, massaging, and smoothing over the course of a day. Rick painstakingly applied each section over all the various helmet angles and lines. The comm port, seen hanging, was taken off to insure the best application of the vinyl.
At the end, reassembled, a work of art:
And now you know what it takes for racing helmets to go from plain Jane to a professional livery. For other great examples - head over to Bolted Spine Designs webpage and Facebook.
Keeping it classy. - Michael
About the author: Michael Gerowitz works in the automotive industry and has more than 15 years of motorsport experience, including: multiple track records, series championships, and numerous podium finishes. Michael has raced, test-driven and developed vehicles with two, four and sometimes three wheels. Educated as a high school teacher and scientist, he leverages those backgrounds to mentoring up-and-coming drivers. Michael is also a leading Performance Driving Instructor for Advanced Drivers. A native of Detroit, Michigan where he began his love of all things car and motorsports at birth. He lives in Akron, Ohio with his wife, son, daughter, and two fur children. He also enjoys contemplating about going for a run while drinking a good beer.