Good Morning fellow Jalops and Opponauts, hope you all had a great Christmas.
Yesterday, while shopping for clothes at my local Forever21, I witnessed a very classical situation : a BMW using 2 parking spots.
I decided to compile a list of the 10 best cars for asshats.
Here we go :
10 - Service van #14
Chap, we all know your struggling business is a one man show, and that this is your only van, which is also your home.
---
9 - The Ego Booster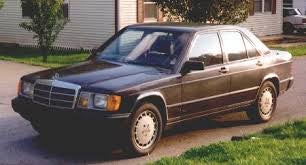 If you're going to brag about driving a Mercedes-Benz, better not be one of these beater 190.
---
8 - Kia Sorento with the clip-on faux BMW grille
Go home, you are not fooling anyone.
7 - Subaru SVX
Sweet car, pal, but it drives like a Buick. And we all know that manual swap you keep talking about will never happen.
6 - Toyota Prius
Brainwashed people thinking they are saving the planet while actually making even more damage ? How cute !
5 - The J-Body Tuner
Nothing screams "I have no idea what I'm doing" like dropping money on these turds.
4 - Pontiac Hearse
What kind of ill-mannered funeral director decides to cart bodies around in a Pontiac ?
---
3 - Nissan NV2500
Nothing makes me more angry than these vans. People buying them must be mean individuals.
2 - BMW e39 5 series
We all agree the e39 is a masterpiece, but unfortunately, we can't say the same about the asswipes who initially bought leased them.
The e39 single-handedly made BMW the brand of choice for douchenozzles who can't operate simple things like blinkers or use only one parking spot.
---
1 - YOU DECIDE

Submit your best car for obnoxious people below in the comment section, the winner will be revealed this afternoon.