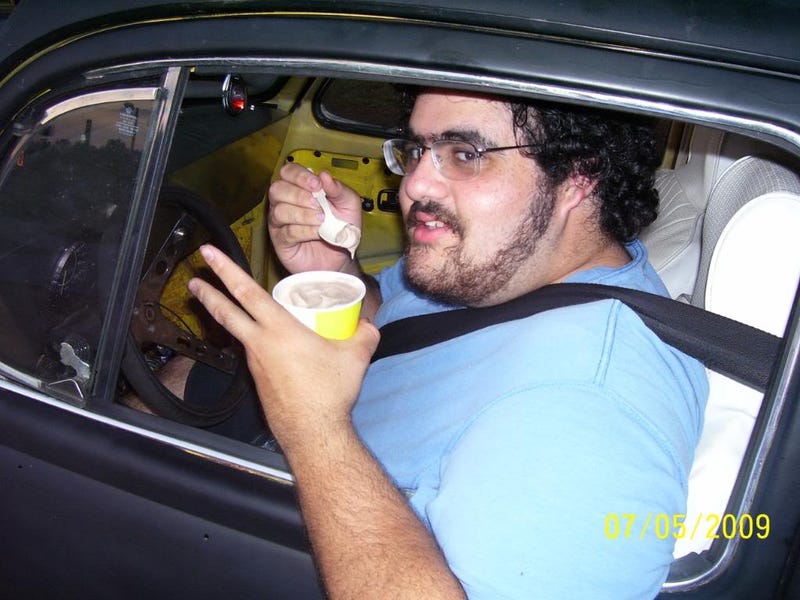 What's better than eating your lunch in the solitary comfort of your Panther car, quietly listening to Police radio frequencies instead of walking into a busy, noisy restaurant at lunchtime and having to endure kids and whatnot ?
Of course Drive-Thru' are the best kind of restaurants, but some offer food that is not adapted to in-car eating, think of a salad with dressing on the side as an example. Let's have a look at the top ten food to order at a drive-thru.
10 - McDonald's Quarter Pounder with Cheese
Pros :The absence of lettuce makes it stick better together, preventing sauce dripping.
9 - KFC popcorn chicken
Pros : Served in a convenient box that fits most cupholders, clean, easy to eat with one hand.
8 - Carl Jr's Double Loaded Omelet Biscuit
Pros : Lack of lettuce which prevents accidental collapse of the sandwich, and once again hear cheese is acting a bit like calking around a window to prevents dripping.
7 - KFC Double down dog
Pros : Conveniently served in a box, can be eaten with one hand, fits in the cupholder.
6 - Jack in the Box Hot Mess burger
Pros : Thinly sliced green veggies, bite-sized nuggets that will easily get glued by the melted cheese and prevent sauce drippage.
5 - Jack in the Box Bacon Milkshake
Pros : Fits in a cupholder, can be eaten directly from the cupholder using a spoon. Convenient combination of meal and dessert.
4 - Taco Bell loaded grillers
Pros : The goodness of Taco Bell's signature Mexican food in a conveniently clean wrap for hassle-free ingestion.
3 - Wendy's Baconator Fries
Pros : This ameliorated version of the Canadian Poutine can seems messy at first, but thanks thanks to tasty melted yellow cheese (canadians use white curds) that replace the sauce and help cement the bacon an the fries together, the Baconator fries meal is surprisingly Car-friendly
2 -Sonic's Chili Cheese tots
Pros : Same as the Baconator fries, but with hash brown potatoes instead of fries. Canadians HATES it !
1 - KFC Double Down sandwich
Pros : A huge package in a tight box. Delicious Kentucky's fried chicken breast glued together with tasty monterey Jack cheese and a generous amount of bacon that can easily be eaten with one hand.