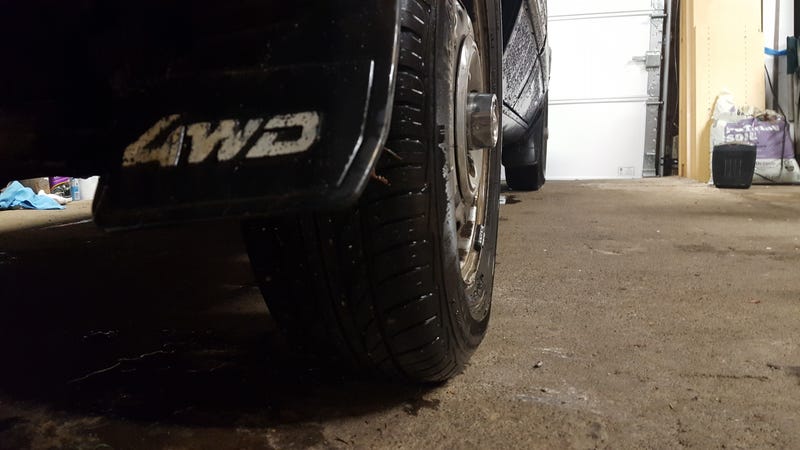 In a small amendment to my previous order of plans, I ended up picking up new tires today. It all started with a problematic flat.
In the first thing I've found that was not disclosed upon purchase by the previous owner, the passenger's rear tire cannot hold air for any usable amount of time (What was known is that the tires were on their last legs to begin with). After sitting for four days this week, the tire was completely flat. Like, wheel-touching-the-ground flat. Even though a gas station was maybe six blocks away from me, it was hopeless. I wasn't driving on that. So I set up shop and sought to remove it and maybe see if I could get it patched somewhere, or at worst, get some air in it and drive to a tire shop and get new booties.
That's right around when shit got frustrating.
Two of the lugnuts would not budge. Penetrating oil, leverage, cheater bar, mallet, you name all the caveman strategies outside of a blowtorch. For over an hour, no progress was made. After another dousing of oil, I went inside and opened something cold and sat down. What was there to do? I'm not going to pay someone else a small fortune to remove a lugnut on a Tercel. I could only get back to work. Well after some rage-slapping work with a mallet and a socket wrench, I succeed.
This was the real asshole of the bunch. The nut was noticeably fucked before I even laid eyes upon it and barely gave any bite for my socket.
Now onto the tire "repair." I took the tire to the Les Schuabbity-Schuab. I have had many good experiences there. Unbeknownst to me, the facility had gone through some kind of remodel in the last year. I walk in. No familiar faces. The guy who eventually got to me was so stoned his eyes would barely open. I left the tire there and returned later upon completion. Usually when I go there for a patch or whatever for free, they'll explain to me what was causing the leak. One time the wheel itself was so corroded it wouldn't seal so they grinded the rust off and it was flawless henceforth, as an example.

This time? "Hi, I'm here for my tire, [states name]." ".... What?..." "You... you just called me... The tire for the Tercel? [states name again]" "Oh... it's over there I guess," as he point to a pile of tires for me to look through. Hmm.
So I bring it back and slap it back on the lunchbox. The next morning? Flaaaaaaaaat. I was so deflated (heheh) that I turned right around and accomplished something easy: changed the oil on Mrs. Zoidberg's 100% American Car.
When that was done, I resolved to get rid of these lousy tires and start anew. I went to a local wrecking yard that I've visited countless that also has their own used tire shop.

A very helpful gentleman broke the news to me that some lady in a Honda bought his last pair of 14" 4x100 steelies. He even showed me all the inventory in case that there was, by some hopeless chance, actual stock SR5 Tercel wheels, or even Tercel steelies (sadly, no). So instead, I bought some tires for the existing 13" wheels. I went from damn-near bald 165/80R/13's to these very nice 175/70R/13's. Lots of life left. All for a grand total of $158.00
When I bought the car, the alignment felt pretty bad. However, on the way back from the shop today, it's as if it was completely cured. I don't know if the tires were never rotated, never balanced, or if they were just totally messed up — as they did appear to have unever wear — but it already drives like a totally new car. Definitely less squishy and terrifying through Washington rainfall. Money well spent.
I was supposed to have done, so, so, so much more to this car by Weekend's end. But I remain positive, as any minor progress is still progress and that's good enough for me.

Thanks for reading.