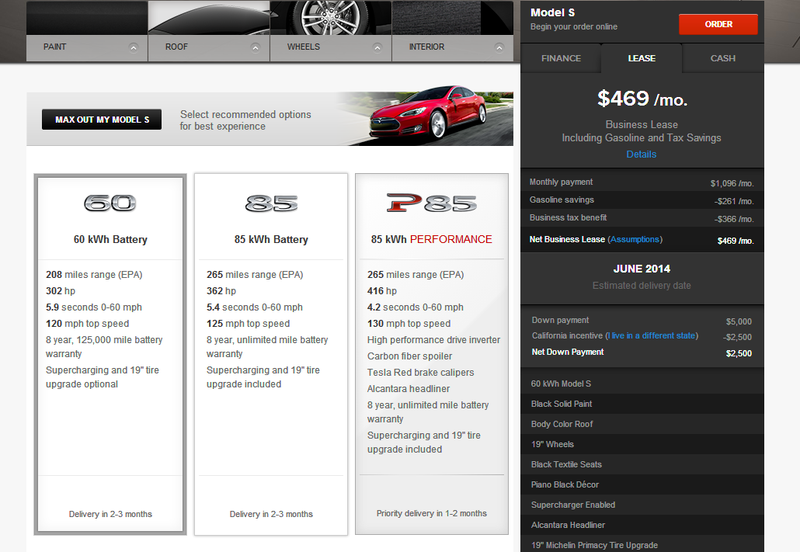 As reported today Tesla will be introducing a pilot lease program in certain states for business owners. Even more importantly Tesla has it's own financing arm, that will better allow them to compete on the same level as other mainstream automakers. When you first look at the estimated lease payments they are bonkers compared to the competition. For example a 58k BMW 535i leases for about 539/mo for 36 months with 4,264 due at signing (tax, title, and tag fees not included). Now if you look at what a 65k Model S (60kw) would lease for it says a mere 469/mo with 5000 down ($2500 down if you qualify for certain state tax credits). Not so fast...that 469/mo is calculated with certain "assumptions" namely a fuel savings of $261 and a business tax benefit of $366. Details below-
Of course the example BMW lease is not calculating any fuel savings or cost nor is it factoring in your tax benefit if you were to lease the 535 as a business. When the assumptions are removed and the comparison is apples to apples (or at least close) the your 60kw Model S lease payments would be 1,096/mo. That is a tough number to swallow on a 65k car that you will not own.
As much as I want Tesla to succeed and alter the landscape of car-buying, consumers should be aware of what lease pricing or vehicle pricing looks like in the real world.
@AutomatchTom is a professional car buying consultant, lover of all things automotive and a bit wagon obsessed. You can find more ramblings and plenty of carporn here.