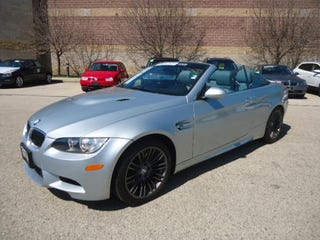 I have a '13 BMW 135is DCT coupe. I got it last summer thinking it would be my only car, but since then I've bought a '99 Grand Cherokee to drive in winter, so I'm feeling like maybe getting a convertible.
I found a 2008 M3 convertible at a local dealer here in Madison. 39k miles, silver on gray leather, not too many options, stick shift. I decided to take it for a spin, and these are my thoughts.
POWAAAAAA
Neither of these cars feels appreciably faster than the other. The M3 has 414 hp and weighs 3991 lbs for a power-to-weight ratio of 9.6 lbs per hp. The 135is has 320 hp and weighs 3439 lbs, for 10.7 lb/hp. So on paper the M3 should be a little faster. And yes, the M3 has more top end, but the 135is has more low end. The DCT in the 135is shifts faster than I can shift the manual in the M3. Point-to-point I'd probably give the edge to the 135is because it's easier to kick down 3 gears with the paddles, get near-instant boost and shoot away.
Transmission
The 135is has a 7-speed dual clutch transmission. It's great, one of the reasons I got the car. Sure it doesn't have a clutch pedal but shifts are super fast, and it's still engaging with pops and burbles and blips. Great transmission. The M3 has a 6-speed manual. Its shifter is...pretty decent. Nothing to complain about but ranks below many other cars. I was able to heel-toe it pretty easily and it makes lovely NASCAR noises when doing so. If you want a clutch pedal, easy choice. The M3's active diff puts power down better than the open diff in the 135is. Sometimes you can make the 135is traction control light go a little crazy with too much power, the M3 is much harder to provoke into one-tire fires like the 135is.
Handling
Very close. Body roll is about the same between both cars. The 135is has sharper steering responses, but the M3 feels a bit less tippy in corners, if only because of its extra width. The 135is is just small enough where it seems like you can toss it wherever you want. The M3 is almost as good, and somewhat more stable. But you're aware of its size, particularly because of the hilarious(-ly good) bulge in the hood. It feels like it's a size larger than the 135is and comes very close.
Sound
The M3 has a better engine note. It sounds like a pissed off V8 endurance racer. Sometimes. Other times it sounds like a normal car. The 135is also makes great noises, although it's a bit more heavy on the exhaust and turbo noise. You get a good I6 growl in the upper revs too. Honestly both are really good, just different. Hard to choose an overall favorite.
My 135is has the Harman Kardon stereo, the M3 didn't. I didn't actually turn the stereo on in the M3 so I can't compare. But they both have stereos with aux jacks. Close enough.
Looks
They're both late model 2 door BMWs. One is silver, one is black. Some parts of each look good. Not much to choose from. Both will cause other drivers to be surprised if you actually use your turn signals and park within the lines.
Comfort
The M3 takes this one. There's more room to spread out, whereas with the 135is I kind of fold myself up into it a little bit. The seats are wider and more padded. The roof goes down. The ride is softer—but this might be more because of it riding on Michelin Pilot Sport tires instead of the run-flat Bridgestone RE050s on the 135is. The 135is has a lower cowl line and is a little easier to see out of, and it barely has better cup holders although the cup holders in both are crap. This particular M3 was missing some options my 135is has like heated seats, comfort access start, I don't think it has homelink garage opener or dimming mirrors. The only one of these I really care about is the mirrors, those are mad nice on the 135is.
So.....what am I going to do?
Hell if I know.