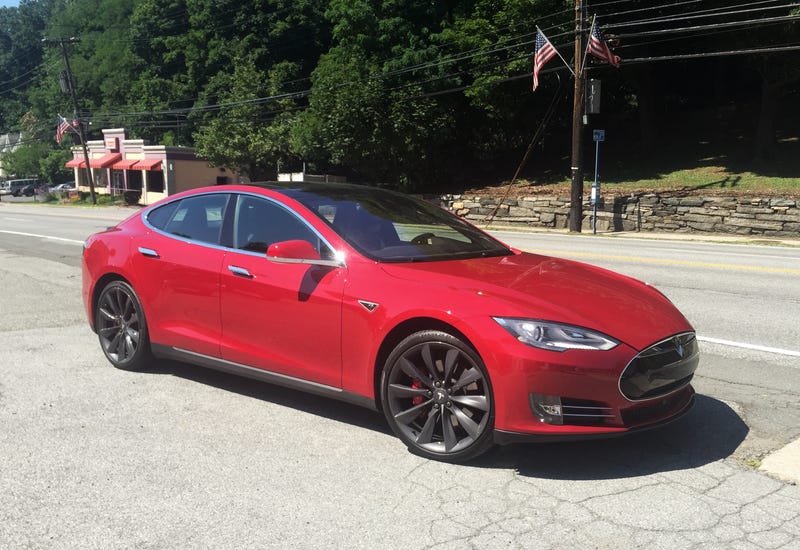 This time with more road! Fellow Opponaut Kyle Cheromcha and I decided to try to go for another test drive but this time FAR, FARRR away from Manhattan. Last month we tried to test drive this beautiful grey machine:
Only for me to be stuck (ironically I guess) behind a horse and buggy in Manhattan's bumper to bumper traffic doing 8 MPH.
Not this time though! We actually were able to get out on some much needed open road. The P85D is a great machine. The one we test drove was actually scheduled to be tested by an Auto Journalist later that day so it was well optioned inside and out.
Our Tesla salesperson told us because the car was committed already for a media person we had to be extra careful and that if we were to curb/kerb any of the wheels we'd unfortunately be responsible. It was either that or we could have a Model S 70D instead like some plebes, so we said screw it and took the P85D.
A magnificent machine inside and out. It had excellent, linear power and enough torque to make your organs jiggle. Since we had some much road I took it up to 105 MPH because POWAHHHHHHHH!
Afterwards Kyle and I hit up some backroads nearby and I let him wring out my C300. Also hit a personal new top speed in my C300 of 132 MPH and it still felt as planted and smooth as when I do 65 MPH which I LOVED. Great Jaloppo weekend if I do say so.