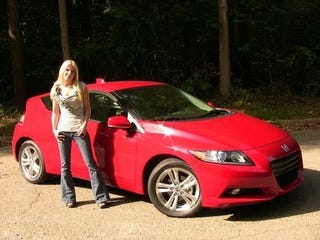 The CR-Z. Surprisingly, or maybe not, it was fine. I did not feel like it was slow, but I would have preferred the manual. There just wasn't one local. So it was not blisteringly fast, even if it looks like it, as I was told. So no one lied to me. I loved the dash. It's how things should look when the outside also looks like a spaceship. I could live with it, but I wouldn't pick it over everything else.
The CT 200h. What can I say. It was brown, just like this. Let's start with the driving. I liked it. It was comfortable, quality was nice. It was a nice place to be on the highway, as well as around town. Let's move on to the process of getting in. I may just be unnaturally long, but I had so much trouble getting in and out. The steering wheel was too close to the sublimely padded seat. Even after adjusting the seat all the way back, and down, and putting the wheel up, my leg was getting jammed in there. That was damned annoying, because I enjoyed driving. I don't think I can do that car.
I drove the i3 because it was there. I'd test driven one before, and remembered enjoying it. I enjoyed it the second time, too. Ok, I loved it. I love the spaceship design, the interior is so open. The exact opposite of the cramped interior of the CT 200h. I had so much room. The i3 I drove was electric only, and Carmax hadn't really decided to charge it up much, so I didn't get far. I love it though. I want one. I must go pitch this to the boss....