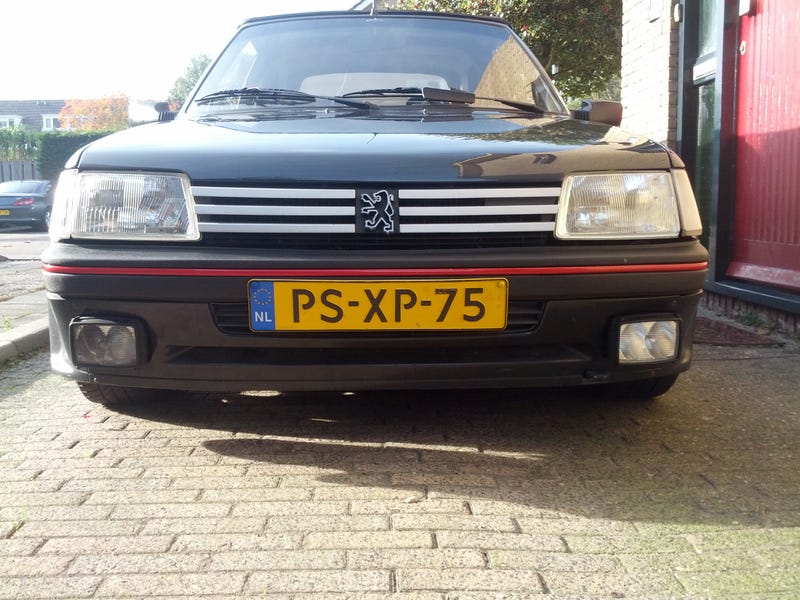 It turned out to be the perfect winter project car (car to work on during winter). Should I buy it?

It's an '87 Peugeot 205 CTI (convertible GTI) with 213k km. The owner bought the car when he was 19 years old, which is visible in some of the modifications. It was his first car. He is 38 years old now, so he's owned it for a rather long time. The car hadn't left his garage in 6+ years, until very recently. Other than the issues I'll mention it looked solid enough, and it isn't expensive. The owner mentioned he replaced the brake lines this year. It drove alright.

Issues I found:
Loud/aftermarket Remus exhaust. Muffler will have to go.

Ugly/dangerous aftermarker pedals. These must go.

Aftermarket front bumper needs attention.
On both the left and right side there's a tiny hole in the convertible roof on the exact same spot. Probably due to some folding issue. It's patchable.
Some rust on one sill. No holes, the metal was rather thick there when it left the factory and still seems solid underneath. Metal brush + anti-rust stuff + aerosol paint?

Both front seats need some attention. I'll probably replace the black cloth (which is damaged) but keep the colored cloth for authenticity.
Front indicators are period-incorrect clear. A €7 a side fix.

Passenger side window doesn't work. Wiring, switch, motor, arm? Will have to troubleshoot.

Driver side window works, but needs guiding preventing it to fall aside.
Air intake hose missing.
Radio front missing. Owner will look if he can find it.
Grille in the wrong color, which apparently was a conscious modification in the 90s.

So, lots of issues. All relatively easily fixable by a novice like me. Front seats, roof and grille need to be outsourced, the rest should be doable.
So what do you think? Should I buy it as a winter project?

Pictures from the ad, showing the pedals