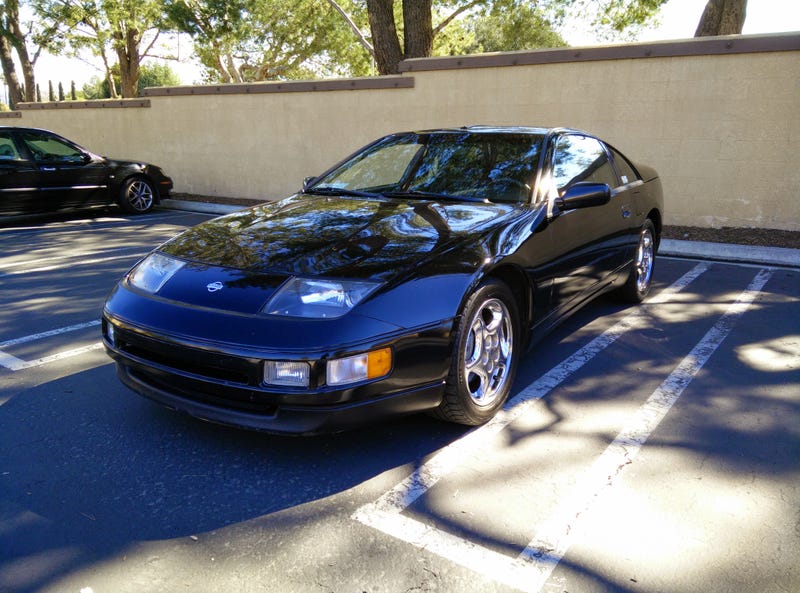 As some of you may have seen, my Focus ST recently suffered an early death through no fault of her own (or mine). Since I lost my good job mid last year, I was actually regretting my rather high car payment, so I took this opportunity to buy something with cash and be able to breathe a little easier at the end of each month, hopefully without missing out on all the fun the ST is so well known for. I'll miss that car.
Anyway, as you can guess from the picture above, I did indeed buy a 300ZX (thanks, For Sweden!). It's a 1996 NA 2-seater with T-tops and a 5-speed manual (of course), and just might be the cleanest one I've seen in very long time. I know, I know, it's not a twin turbo, but I am not in a place where I can (or even want to) afford to deal with the maintenance that comes with a TT. Plus, have you seen these engine bays? My knuckles hurt just looking at mine, let alone with two turbos stuffed in there:
It's totally stock apart from the K&N intakes, MagnaFlow exhaust, a swapped pulley, and an aftermarket head unit. It's sitting at 126k miles and was meticulously maintained by none other than a retired reverend. His license plates even read "REV ZEE." Two things come to mind here:
Holy (literal) shit, who better to buy a used car from??
Imagining this elderly reverend zipping around with this exhaust (which he put on):
It's not quite so rumbly in person, blame my phone's crappy microphone, but I was impressed with the sound. It does drone a bit more than I'd like on the freeway if you keep your foot on the pedal, but it's easily drowned out by music if that gets annoying. It's much louder on the inside than the outside, and is still quiet enough that I'm not drawing too much unwanted attention, and it certainly won't wake the neighbors. It's tasteful.
The paint is definitely not perfect, showing some scratches and wear, but no dents or dings since he shelled out a few hundred to get all of them removed about a year ago. The interior is by far the best part. Apart from a few common wear areas, it looks brand new. The fabric on the driver's side bolster is showing some wear from getting in and out (foam is perfect, though), and the center console, steering wheel, and shifter are showing signs of age, but everything else is seriously mint. Power windows, locks, mirrors, auto-climate control, and AC all work beautifully, with the only thing not working on the car being the power antenna, which I couldn't care less about.
I had it checked out by my mechanic, the compression is solid across all cylinders. Brakes and tires are at 70-80% life, fluids all look great, only one minor oil leak (drain plug), belts and hoses all pliable and look good, alternator charges great, and the car stays nice and cool in traffic on a warm day with AC blasting.
So there are a few things that need to be taken care of, the clutch is going to need to be done fairly soon. If you really try, you can get it to slip, but it still grabs well if you don't drive like an idiot. The alignment is a bit off, and there is some slight vibration on the freeway at certain speeds as well as under breaking from high speed, which feels like a wheel balance issue. I was able to get a pretty decent deal on it due to the clutch, though.
What it's like to drive:
She purs like a feisty little Japanese kitten, and pulls strong. It's not what I would call fast by today's standards, and is certainly no ST, but it's reasonably quick. In fact he had it dyno'd at a Z club event last year and it came out surprisingly well at 204hp and what looks to be about 185lbs-ft of torque to the wheels. Pretty damn good for being rated at 222hp and 198lbs-ft torque at the crank back in 1996. Of course, who knows how accurate that dyno was, but at least it was consistent:
It's nice to be back into a correct wheel drive car, even if it isn't as fast as the ST was. You sit way down low, and it takes corners effortlessly. It has already instilled the confidence to forgo breaking on many corners, but I'm still getting a feel for heel-toeing in it. The foot well is a little cramped for my size 14 boats, but I can manage it easier than in the ST, which had pretty poor pedal placement for heel-toeing.
At first I was thinking it was a bit of a dog, but then I reminded myself that I'm coming from something that makes its full torque before it hits 3k RPM, and that these Japanese NA motors like to rev. After 5k RPM the engine really comes alive and it actually starts pushing you back in your seat as it approaches 6k and up. It's a little strange to get used to the high revs as well as the long gearing coming from the ST with the 6-speed and a power band that fell off above 5500RPM.
Also, this thing gives you a very distorted sense of speed. It accelerates so smoothly and gradually that you're hitting illegal speeds far before it feels like you should be. I'll feel like I'm just getting up to freeway speed before looking down and realizing that I'm pushing past 80. The ST was of course incredibly easy to speed in, but it made more ruckus, torque steered, and threw your head back to let you know it was doing so. The Z is just so comfortable and neutral in its acceleration that you hardly realize it. From what I'm reading in old reviews, 0-60 was in the 6.7-7.0 second range, and that feels about right. Just can't be afraid to wind it out.
So there there it is. Keeping it Jalop worthy, and doing my best to ensure that you guys keep seeing clean, non-dorifto modded Z's around, since they're getting rarer all the time. At some point, everyone's gotta own a front engine, rear drive, proper sports car. We'll see if this gets me hooked.
Side note: I pull up to my place and the first thing one of my buddies says "Woah, is that a Corvette???" Sometimes I hate being the only car guy among my friends.